Tiger Woods Biography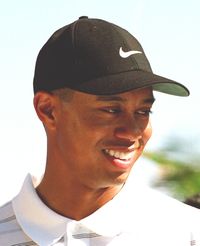 Woods sidelined by knee operation
Tiger Woods is set to be out of action for between four to six weeks following arthroscopic surgery on his left knee.
The world number one, who was second in the Masters at the weekend, will now be unable to defend his Wachovia Championship title from 1-4 May.
Woods has had two previous operations on the same knee.
"I made the decision to deal with the pain and schedule the surgery for after the Masters," said Woods, 32, on his official website.
"The upside is that I have been through this process before and know how to handle it.
Highlights: Day four of the Masters "I look forward to working through the rehabilitation process and getting back to action as quickly as I can."
The American, who could also miss the Players Championship in May, had hoped to achieve a Grand Slam of majors this season but his bid came to an end at the first hurdle in the Masters, which was won by Trevor Immelman.
Woods first had an operation on the knee in 1994 to remove a benign tumour and then had arthroscopic surgery in December 2002.
"Tiger has been experiencing pain in his knee since the middle of last year," said his manager Mark Steinberg.
"When he had it looked at by his doctors, arthroscopic surgery was recommended. Tiger has played through the pain in the past but knew it would be better for him to have the procedure done as early as possible."
Work with children spurs on Woods
Tiger Woods is hoping that he will be best remembered for his contribution to society rather than as one of the greatest golfers in history. Woods, 31, has won virtually every major honour in the sport, but wants to leave a legacy that is not just about his achievements on the fairway.
"As far as my tombstone is concerned, hopefully it will read more of what I am trying to do for kids," he said.
"That would be so much more ultimate than winning any golf tournament."
Shortly after turning professional in 1996, he created the Tiger Woods Foundation with his late father Earl.
That paved the way for the first Tiger Woods Learning Centre, where children can develop life skills and, since the first centre opened in Anaheim, California in February 2006, 16,000 students have passed through its doors.
Tiger's focus now, is clearly on major wins and PGA wins. He gears his entire game and schedule around them.
Woods plans to open a second centre in Washington DC within the next five years and says that it is the reaction he gets from the children, rather than his success, that makes it all worthwhile.
"Golf is something I do selfishly for myself," he told Reuters.
"I have a competitive side and that's how I express it.
"But the joy I get from winning a major championship, doesn't even compare to the feeling I get when a kid writes a letter saying: 'Thank you so much. You have changed my life'.
"Or: 'I have turned my life around because of you. I was in a gang and now I'm going to college. No one in my family has ever gone to a college and now I'm the first one to do it.' That, to me, is what it's all about."
Woods's latest triumph at the Target World Challenge was his eighth of the season and the winner of 13 major titles said he would have jumped at the chance of going to a learning centre when he was younger.
"It would have been incredible," he added. "I didn't even know how to turn on a computer at that age.
"To see these kids and the enthusiasm they have for school, you don't normally see that until you get to college.
"But these kids create their own curriculum and it's pretty cool to see them that excited and that enthused about learning and developing their own future."
Woods wins PGA Tour player award - 2007
Woods' Tour Championship victory was his 61st PGA Tour triumph World number one Tiger Woods has been named PGA player of the year for the ninth time in 11 seasons.
Woods won seven titles including his 13th major at the US PGA Championship, and is now preparing for the Presidents Cup.
Tiger becomes a Father of a baby girl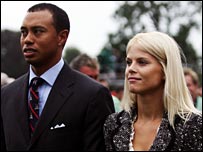 Tiger Woods has become a father for the first time after his wife Elin gave birth to a baby daughter, 19th June 2007.
The 31-year-old had indicated that he would be prepared to miss the Open at Carnoustie from 19-22 July should the birth coincide with the tournament.
And although that will now no longer be the case, his upcoming schedule is certain to be affected.
He said: "This is a special time and we look forward to introducing Sam Alexis Woods to family in the next few weeks."
The birth came just 24 hours after Woods finished a shot behind Angel Cabrera to finish second in the US Open.
This is far more important than any game of golf
Tiger Woods
Woods announced his wife's pregnancy in December and before last week's tournament in Oakmont he said: "My practice sessions are going to have to be tailored around a little bit, have to move things around.
"But, you know, I don't really know how my game is going to be affected by it because I've never gone through it before.
"All I know is that Elin and I are excited, and that this is far more important than any game of golf."
Tiger to become a father
Tiger Woods has announced on his 31st birthday that he and his wife Elin are expecting their first child in 2007.
The American world number one said on his website: "Obviously, we couldn't be happier and our families are thrilled.
"I have always wanted to be a dad. I just wish my father could be around to share the experience."
Woods, who married his Swedish wife in October 2004, lost his father Earl in May this year when he died after a long battle with cancer.
Woods has decided to skip next week's season-opening Mercedes Championship in Hawaii to spend more time with his family.
The 12-time major winner will launch his 2007 PGA Tour campaign with his title defence at the Buick Invitational near San Diego on 25 January.
Eldrick Tont (Tiger) Woods was born December 30, 1975, in Cypress, 35 miles southeast of Los Angeles, California.


This American golfer is widely considered to be one of the greatest golfers of all time.
He appeared on the Mike Douglas Show at age 2, putting with Bob Hope.
He shot 48 for nine holes at age 3, and was featured in Golf Digest at age 5.
He won the Optimist International Junior tournament six times at ages 8, 9, 12, 13, 14 and 15.

In 2005, at the age of 29, he won his 10th major golf championship, placing him third on the all-time list behind Jack Nicklaus and Walter Hagen.
He has more wins on the PGA Tour than any other active golfer.
Woods, who is of mixed race, is credited with prompting a major surge of interest in the game of golf among minorities and young people in the United States.
Tiger Woods' Family

Woods' father, Earl Woods is a Vietnam War veteran and a retired U.S. Army lieutenant colonel, of mixed Black, Chinese and Native American ancestry.
He is now the chairman of his son's charitable foundation, the Tiger Woods Foundation, but is unfortunately, suffering from cancer.
Woods' mother, Kultida Woods, is originally from Thailand, and is of mixed Thai, Chinese, and Dutch ancestry.
This makes Woods himself one quarter Chinese, one quarter Thai, one-quarter African American, one eighth Native American, and one eighth Dutch.
He refers to his ethnic make-up as Cablinasian (a portmanteau of Caucasian, Black, American-Indian, and Asian), a term he made up himself.
Woods' actual given name is 'Eldrick'. He was given the nickname 'Tiger' at birth, after Vuong Dang Phong, a Vietnamese war comrade of his father.
In 2004, Woods became engaged to Elin Nordegren, a Swedish model.
They were introduced by Swedish golf star Jesper Parnevik, who had employed her as a nanny.
They married on October 5, 2004 and live at Isleworth, a community in Windermere, a suburb of Orlando, Florida.
They also have homes in Jackson, Wyoming, California and Sweden.
In January 2006, Woods and his wife purchased a $38 million residential property in Jupiter Island, Florida, which they intend to make their primary residence.
Amateur Career
In 1984, he won the 9-10 boys' event at the Junior World Golf Championships,(Tiger was only eight years old at the time).
Tiger went on to win the Junior World Championships six times, including four consecutive wins from 1988-1991.
Woods then won the U.S. Junior Amateur title in 1991, 1992, and 1993. He remains the event's youngest-ever winner. He won three consecutive U.S. Amateur titles over the next three years. With his first US Amateur win in 1994, (the youngest player ever to win that event).
Tiger played in his first professional tournament in 1992, at age 16, the Nissan Los Angeles Open and in three more PGA TOUR events in 1993.
He made the 36-hole cut and tied for 34th place in the 1994 Johnnie Walker Asian Classic in Thailand, and had three additional PGA TOUR appearances.
He entered Stanford University in 1994 and in two years he won 10 collegiate events, concluding with the NCAA title.
His other amateur victories included the 1994 Western Amateur.
He represented the United States in the 1994 World Amateur Team Championships in France and the 1995 Walker Cup Match in Wales.
He played his first major championships in 1995, making the 36-hole cuts in the Masters and the British Open, but had to withdraw from the U.S. Open because of an injured wrist.
Tiger also made the cuts in the Motorola Western Open, and Scottish Open.
He played in three more major championships in 1996, making the cuts in two. After missing the cut in the Masters, he led the U.S. Open after 13 holes of the first round before finishing tied for 82nd place.
Tiger posted a 281 total to tie the record for an amateur in the British Open, and his 66 in the second round equaled the lowest ever by an amateur. He tied for 22nd place.
Among the honors received as an amateur, Woods was Golf Digest Player of the Year in 1991 and 1992, Golf World Player of the Year in 1992 and 1993, Golfweek National Amateur of the Year in 1992, Golf World Man of the Year in 1994, and he was chosen for the Fred Haskins and Jack Nicklaus College Player of the Year awards in 1996.
His five USGA Championships before age 20 qualify him for consideration as having the greatest under-20 golf career of all time.
Professional Career
Tiger Woods became a professional golfer in August 1996, playing his first round of professional golf at the Greater Milwaukee Open.
He won two events in the next three months.
The following April, Woods won The Masters by a record margin of 12 strokes.
In June 1999, Woods won the Memorial Tournament, a victory that marked the beginning of perhaps the greatest sustained period of dominance in the history of men's golf.
He would go on to win seventeen PGA Tour events in the two calendar years that followed, and 32 in the next five, both achievements that had not been rivaled in several decades.
Also in late 1999, Tiger embarked on a record-setting streak of 264 consecutive weeks on top the Official World Golf Rankings.
During the run, Woods won seven out of the eleven major championships, starting with the 1999 PGA Championship at Medinah Country Club, and finishing with the 2002 U.S. Open at Bethpage Black.
Woods holds the record for the largest victory margin ever in a major championship, which had stood since 1862, with his 15-shot win in the 2000 U.S. Open at Pebble Beach. Old Tom Morris still holds the record for the largest victory margin in The Open (the original major championship).
In the 2000 British Open at St Andrews, Woods set the record for lowest score to par (-19) in any major tournament, and he holds at least a share of that record in all four major championships.
Woods won the 2001 Masters which is the the only time anyone had ever won four consecutive majors, a feat which has become known as the "Tiger Slam".
The next phase of Woods' career saw him remain among the top competitors on the tour, but lose his dominating edge.
He did not win a major in 2003 or 2004, and fell to second in the PGA Tour money list in 2003 and to fourth on 2004.
In September 2004, Woods' record streak as the world's top-ranked golfer came to an end at the Deutsche Bank Championship, when Vijay Singh won the tournament and overtook Woods in the rankings.
In the 2005 PGA Tour season, Woods quickly returned to his winning ways. On March 6, he won the Ford Championship at Doral, and returned to the Official World Golf Rankings' number one position in the process (though Singh displaced him once again two weeks later).
On April 10, Woods finally broke his "drought" in the majors by winning the 2005 Masters in a tie-breaking playoff, which also assured him the number one spot in the World Rankings again.
Singh and Woods swapped the Number 1 position several times over the next couple of months, but by early July, Woods had established a substantial advantage, propelled further by a victory in The (British) Open Championship, a win that also gave him his 10th major.
Tiger went on to win six official money events on the PGA Tour in 2005.
To date, Woods has won 48 official money events on the PGA Tour, 18 other individual professional titles, and two team titles in the two-man WGC-World Cup.
Tiger is one of only five players (along with Gene Sarazen, Ben Hogan, Jack Nicklaus, and Gary Player) in the history of golf to have won all four professional major championships in his career (known as the "Career Grand Slam").
With his win in the 2005 Open Championship, he became only the second golfer, after Nicklaus, to have won all four majors more than once.
At the 2003 TOUR Championship, he set an all-time record for most consecutive cuts made with 114 (passing Byron Nelson's previous record of 113), and extended this mark to 142 before it ended on May 13, 2005 at the EDS Byron Nelson Championship.
The streak started in 1998. Many commentators consider this one of the most remarkable golf accomplishments of all time, given the margin by which he broke the old record (and against much stronger fields than those in Nelson's day) and given that during the streak, the next longest streak by any other player was usually only in the 10s or 20s.
Woods won the "World Sportsman of the Year" award at the Laureus World Sports Awards in 2000 and 2001.
He is the only individual two-time winner of Sports Illustrated magazine's "Sportsman of the Year" award (1996, 2000).
In many experts' eyes, Tiger's career accomplishments through 2005 (remarkably, all before the age of 30) qualify him for consideration as the greatest golfer of all time.
Major Championship Victories
Woods' 13 major championship victories are as follows:
The Masters (1997, 2001, 2002, 2005)
US Open (2000, 2002)
The Open Championship (2000, 2005, 2006)
USPGA Championship (1999, 2000, 2006, 2007)
PGA Tour Wins
1996 (2) Las Vegas Invitational, Walt Disney World/Oldsmobile Classic
1997 (4) Mercedes Championships, The Masters, GTE Byron Nelson Golf Classic, Motorola Western Open
1998 (1) BellSouth Classic
1999 (8) Buick Invitational, Memorial Tournament, Motorola Western Open, PGA Championship, WGC-NEC Invitational, National Car Rental Golf Classic/Disney, The Tour Championship, WGC-American Express Championship
2000 (9) Mercedes Championships, AT&T Pebble Beach National Pro-Am, Bay Hill Invitational, Memorial Tournament, U.S. Open, The Open Championship, PGA Championship, WGC-NEC Invitational, Bell Canadian Open
2001 (5) Bay Hill Invitational, The Players Championship, The Masters, Memorial Tournament, WGC-NEC Invitational
2002 (5) Bay Hill Invitational presented by Cooper Tires, The Masters, U.S. Open, Buick Open, WGC-American Express Championship
2003 (5) Buick Invitational, WGC-Accenture Match Play Championship, Bay Hill Invitational presented by Cooper Tires, 100th Western Open presented by Golf Digest, WGC-American Express Championship
2004 (1) WGC-Accenture Match Play Championship
2005 (6) Buick Invitational, Ford Championship at Doral, The Masters, The Open Championship, WGC-NEC Invitational, WGC-American Express Championship
2006 (2) Buick Invitational, Ford Championship at Doral
Other Professional Wins

1997 Asian Honda Classic (Asian Tour)
1998 Johnnie Walker Classic (co-sanctioned by Asian Tour and European Tour), PGA Grand Slam of Golf (United States - unofficial event)
1999 Deutsche Bank Open-TPC of Europe (European Tour), World Cup of Golf: individual (unofficial event), World Cup of Golf: team (unofficial event - with Mark O'Meara), PGA Grand Slam of Golf (United States - unofficial event)
2000 Johnnie Walker Classic (co-sanctioned by Asian Tour and European Tour), World Cup of Golf: team (unofficial event - with David Duval), PGA Grand Slam of Golf (United States - unofficial event)
2001 Deutsche Bank-SAP Open TPC of Europe (European Tour), Williams World Challenge (United States - unofficial event), PGA Grand Slam of Golf (United States - unofficial event)
2002 Deutsche Bank-SAP Open TPC of Europe (European Tour), PGA Grand Slam of Golf (United States - unofficial event)
2004 Dunlop Phoenix (Japan Golf Tour), Target World Challenge (United States - unofficial event)
2005 Dunlop Phoenix (Japan Golf Tour), PGA Grand Slam of Golf (United States - unofficial event)
2006 Dubai Desert Classic (European Tour, won by playoff)
Woods creates his own firm
Woods creates his own firm and gets into the course design business.
Tiger Woods has formed Tiger Woods Design, and could announce his first project, likely outside the U.S., by the end of the year.
Following other players-turned-architects, Woods announced Monday he has formed Tiger Woods Design and will start looking for land to design golf courses.
"My goal is to provide a unique collection of amazing courses all over the world that represent what I love about golf," said Woods, who will be chairman of the company.
He did not say where his first golf course would be, although an announcement is expected by the end of the year and likely will be outside the United States.
Woods has talked about designing golf courses for the last several years, a vocation of nearly all the top players. Jack Nicklaus Design has more than 300 courses that are open for play around the world, and Arnold Palmer became the first former captain to have a Ryder Cup staged on his course -- in Europe, no less -- at The K Club in Ireland.
Other contemporaries already involved in golf course design include Ernie Els and Phil Mickelson, although Mickelson does not have his own company.
Woods and other players have talked to the PGA Tour design staff about their design philosophies as the TPC of Boston (home of the Deutsche Bank Championship) gets ready to undergo a renovation, although that project will be handled by Gil Hanse with Brad Faxon as the player consultant.
What will a course look like designed by a player with 12 majors and 64 worldwide victories who has played in more than 20 countries on every continent? He said his courses would appeal to every skill level, drawing on his global travels.
"I've had the luxury of playing golf around the world, and I've spent a lot of time evaluating how to play all kinds of courses," Woods said. "I'd like to share my experience and the lessons I've learned and hopefully create some amazing, fun courses.
"There are golfers everywhere that may never get a chance to play a links course in Scotland, a tree-lined course in America or the sand belts of Australia," he said. "Hopefully, I can bring some of those elements into their backyards."
Nicklaus first began working with Pete Dye in the mid-1960s on projects such as The Golf Club in Ohio and Hilton Head in South Carolina, but he did not design his first golf course alone until Glen Abbey outside Toronto in 1976.
Woods said he has talked with Nicklaus and architect Tom Fazio, who oversaw the revamping of Augusta National.
"I hope I can bring as much to this industry as they have over the years," he said.
Return To Tiger Woods Page

Return to Top of Tiger Woods Biography Page