Augusta Masters Golf Tournament

Masters 2007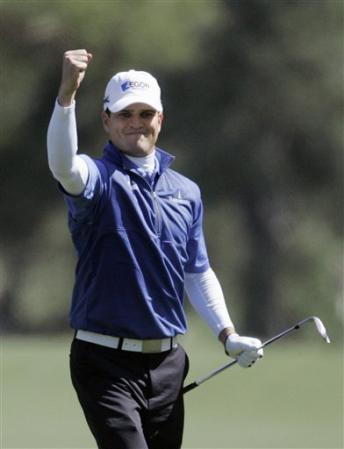 American Zach Johnson came through the pack on a dramatic final day at Augusta National to win his first major.
The 31-year-old from Iowa City carded a three-under-par 69 for a one-over total of 289 - the joint highest winning score in Masters history.


FINAL LEADERBOARD:
(US unless stated)
+1 Zach Johnson
+3 Rory Sabbatini (SA), Retief Goosen (SA), Tiger Woods
+4 Jerry Kelly, Justin Rose (Eng)
+5 Padraig Harrington (Ire), Stuart Appleby (Aus)
+6 David Toms
+7 Paul Casey (Eng), Luke Donald (Eng), Vaughn Taylor

Two shots back were South African duo Retief Goosen and Rory Sabbatini, who also shot superb 69s, and Tiger Woods.
England's Justin Rose finished in a tie for fifth on four over with the fast-finishing American Jerry Kelly.
Johnson, a committed Christian, said: "It is amazing what God can do. I believe in myself but every now and then you miss a putt and you can get down on yourself but I've had a lot of support.
"I tried to be non-emotional out there - that was one of my goals. I just tried to stay in the present and go through my processes.
Zach has been a very good player for a long time
Retief Goosen "I knew I could win on the major scene. I felt everything was ready and I prepared very hard."
The US Ryder Cup player might not be everybody's idea of a Masters winner - he was available at 200-1 before the tournament - but nobody can claim he does not deserve his Green Jacket moment.
The scoring was a little easier in the fourth round but the tension was off the scale. And while a host of golf's biggest names were losing their heads, the 56th-ranked Johnson kept his to land the £664,000 winner's cheque and the most famous blazer in sport.
His delicate chip at the last to seal his win was the shot of a true champion, particularly as his nerves were rattling after a bogey at the 17th appeared to give Rose and Woods, playing behind him, a chink of light.
"Zach has been a very good player for a long time," said Goosen, magnanimous in defeat. "He hits the ball straight, low and accurately - that's what you need around here."
Perhaps the most stunning aspect of Johnson's surprise second victory on the PGA Tour - his first came at the BellSouth Classic in 2004 - was that it happened so suddenly and so quietly.
He had been in or around the lead all week but nobody was expecting a relatively short-hitter without a top-10 in his previous 11 majors and no finish better than ninth this season to emerge as winner - not with the likes of Woods and Goosen on the warpath.
In fact, when he three-putted for a bogey from six feet at the 16th on Friday it seemed he would go the way of the other early leaders Tim Clark, Brett Wetterich and David Howell - south, very fast.
But the resolve he showed on Saturday to bounce back from what became a bogey-bogey-bogey finish to his second round was displayed once more on Sunday, and then some.
606: DEBATE Your reaction to all the drama on the final day at Augusta
Despite seeing first Woods and then Goosen take top spot on the leaderboard, Johnson, who started with a bogey, continued to putt beautifully on Augusta's almost friction-free greens.
The 38-year-old Goosen was on fire on the front nine and seemed destined to complete a remarkable comeback from making the cut on the number to adding a Masters title to his two US Opens.
But his fourth birdie in eight holes was his last and he would never get as low as two over again.
Sabbatini also reached two over when he eagled the 8th before falling back. At that point it seemed to be South Africa versus Woods, as the much hoped-for (from this side of the Atlantic) European challenge failed to materialise.
But then a strange and wonderful thing happened. Woods, who had taken the lead almost by default as early as his fourth hole, started to lose the plot.
And Rose (who started double-bogey, birdie, double-bogey, bogey) began to show the combination of backbone and brilliance British golf fans have been waiting for since Nick Faldo's powers started to wane.
The 26-year-old bagged five birdies over the next 12 holes to awaken very real hopes of a first European triumph in a major since 1999.
But then disaster struck, just as it had earlier for his compatriots Paul Casey and Luke Donald when they too seemed to have Masters momentum on their side.
A poor drive at the 17th was compounded by a horrible ricochet off a tree that sent his ball almost 100 yards further off line and onto the 15th fairway. From there it was trouble all the way and the foundations for glory that had been built on 15 and 16 came crashing down with a third double-bogey.
A great approach to 18 did not produce the birdie he needed for a share of second but this week has been a huge step forward for the player who first came to our attention as an amateur when he finished fourth at the 1998 Open.
Rose's playing partner Padraig Harrington also showed great mettle to come back from his poor start - three over through 11 - to play the last seven in two under for a five-over total and a share of seventh.
Alongside the Irishman was Stuart Appleby, who started with a two-shot lead but never really looked like becoming the first Australian winner of this famous tournament.
But what of the man he was playing with? The man almost everybody in Georgia was expecting to claim his third straight major victory, 13th in total and fifth Green Jacket?
Well, for Woods it was a decidedly odd day at the office.
The world number one had the lead and then lost it. Broke a club on a tree and then mended his game. Picked up a trademark eagle at the par-five 13th and then found the water at the par-five 15th.
But Woods, being Woods, was not completely out of it until his nine-iron to the 18th failed to drop to force a play-off.
That would have been cruel on Johnson, particularly as he had already battled against one of golf's most famous maxims - the Masters winner always comes from the last group.
But by the end, when defending champion Phil Mickelson had completed his first meaningful action since triple-bogeying the 1st, all that was left was that other well-worn factoid - Woods has still never won a major he was not leading after 54 holes.
Oh, and European golfers have now gone 30 majors without a victory.
Women still not allowed to be members at Augusta
New Masters boss rules out women
Billy Payne takes over from Hootie Johnson on 21 May The incoming chairman of Augusta National, the home of the Masters, has dismissed the possibility of women becoming members in the near future.
Augusta National has repeatedly resisted demands for female members under the chairmanship of Hootie Johnson, who steps down on 21 May.
"Membership matters are decided by club members and we have no timetable to discuss that issue," said Billy Payne.
Payne also said further lengthening of the Augusta National was unlikely.
Johnson to quit as Masters chief
The build-up to the 2003 Masters was overshadowed by a row between Johnson and Martha Burk, the head of the National Council for Women's Organisations.
Asked whether he would welcome a telephone call on the subject from Burk, Payne replied: "I'm very aware of her position and I don't see at this time that any other dialogue would be meaningful and helpful."
We remain hopeful that limitations will be placed on equipment that will diminish the gains in distance
Augusta chairman Billy Payne
Burk replied: "I thought it (having a new chairman) would be an opportunity for the club to move forward, and it does not sound like that's the case.
"He (Payne) has had several years to speak out as a member and clearly did not have the courage to do so. As the chair, I thought his backbone might be a little stiffer."
Meanwhile, Payne refused to rule out the possibility of a tournament golf ball for the Masters if he felt the governing bodies were not doing enough to limit gains in distance.
"While we would hope that a resolution would come as quickly as possible through the normal process, we would not take that option off the table," said Payne, a 58-year-old Georgia native.
On the course itself, Payne said: "I think we have it just about right now. We remain hopeful that some limitations will be placed on equipment that will diminish the gains in distance."
Johnson oversaw two major overhauls of the course, adding hundreds of yards in length and toughening holes as players hit the ball ever-increasing distances.
However, Payne said limited changes would be made for the 2007 Masters, with the tee boxes on the 11th and 15th holes lengthened by five to seven yards.
The fairway on the par-four 11th will be widened around the 280-yard mark to help medium-length hitters while grass under the newly-planted trees flanking the right of that hole will be replaced by pine straw.
Welcome to news from the 70th Augusta Masters Golf Tournament.
Phil Mickelson Wins 2006 Masters
Phil Mickelson beat South Africa's Tim Clark by two shots to win his second Green Jacket in three years at Augusta.
The American posted a three-under 69 to get to seven under for the tournament, and could even bogey the last without prompting any undue panic.
Earlier, Spain's Jose Maria Olazabal had shot the round of the week, a 66, to post the target at four under.
Also on that score were Americans Chad Campbell, Fred Couples and Tiger Woods, and South African Retief Goosen.
The 35-year-old Mickelson took a one-shot lead into the storm-delayed final round, having bogeyed the last hole of his third round.
And while Chad Campbell, Couples, Miguel Angel Jimenez and Rocco Mediate all made good starts to create a logjam at four under, Mickelson had to wait for his first birdie.
[Mickelson] shot an easy 69 - he didn't struggle at all
Fred Couples Quotes of the day But when it came at the 7th he followed it up with another at the 8th. And then his main rivals started to go backwards.
Playing partner Couples, wonderful from tee to green, missed a host of chances to keep apace, while up ahead the likes of Woods and Vijay Singh could not buy a putt.
Couples, at 46, was aiming to become the oldest player to win a Green Jacket, 14 years after winning his first. He would have been a hugely popular winner but his putter just would not follow the script.
He said: "If I had made the one at the 14th I might have made Phil work harder, but he played very well. He shot an easy 69 - he didn't struggle at all."
The 40-year-old Olazabal, however, was rolling back the years. A superb eagle-three on the 15th took the Spaniard to five under and within touching distance of a third Green Jacket.
But a nervous first putt at 16 led to a three-putt bogey and a return to four under.
Goosen, playing typically steady golf, joined him there soon after but is was already apparent that four under was not going to be enough to stop Mickelson.
The final group on Sunday provided the Masters champion once more The Californian, who played with two drivers in his bag, by now had added regulation birdies at the long 13th and 15th to go four clear.
Woods, the defending champion and world number one, threatened briefly but saw eagle chances come and go at the par-fives and then three-putted the 17th. The huge putt he holed for birdie on 18 was greeted with an ironic smile.
But is was good enough to improve the four-time Masters champion's score to four under and a tie for third with Olazabal and Goosen.
Couples - playing in the final pairing that provided the Masters champion for the 16th year in a row - would later join this trio.
One shot behind them were Angel Cabrera of Argentina and Fiji's Singh, who led after the first round. Completing the top 10, on his own on two under, was American Stewart Cink.
Spain's Jimenez, who went out in 33 but came back in 39, and Canadian pair Mike Weir and Stephen Ames were tied for 11th on one under.
South Africa's Ernie Els, however, will be less happy. The world number five, a two-time runner-up here, was in great shape at the halfway stage but struggled after Saturday's weather interruption, finishing way down the leaderboard.
I knew it was going to be a tough day - but in the end, it was real fun and I ended up playing well
Phil Mickelson But his compatriot Clark should be delighted with his best finish in a major, particularly as he claimed second on his own by chipping in from a bunker at the last.
The best-placed British player was David Howell. The Englishman finished in a tie for 19th on two over par, one shot ahead of Northern Ireland's Darren Clarke, who crashed out of contention thanks to a 77.
The most spectacular crash was not Clarke's, though. Mediate went from joint leader to nowhere by taking 10 on the short 12th. An old injury had flared up by then and he put three balls in the lake.
But the day belonged to Mickelson, the man who for so long carried the tag of "best player never to have won a major". He has now claimed three of the last nine and the last two in succession.
In fact, he cannot stop winning. Last week he triumphed in Atlanta by a remarkable 13 shots. Nobody since Sandy Lyle in 1988 had come to Augusta on the back of a victory and won again.
"I knew it was going to be a long, tough day. But in the end, it was real fun and I ended up playing well," Mickelson said.
And with the new rankings released on Monday, he is sure to be made the world's number two.
The golfing public, particularly the American golfing public, could be finally getting the battle for number one that they have craved since the halcyon days of Jack Nicklaus v Arnold Palmer.
Is the row justified ?
Tiger Woods says Augusta National's decision to lengthen its course has narrowed the list of potential winners at this year's Masters. "With the length some of the guys hit the ball, they are having a hard time holding the greens," he said. "Those shorter hitters are going to struggle."
But veteran Gary Player defended the changes, which affect six of the holes.
"There have been a lot of criticisms, but I think unjustly so, now I've played it," said the 70-year-old.
Another 155 yards have been added to the course this year, making it the second longest in major history at 7,445 yards.
Woods was particularly unhappy about alterations to the seventh hole and the par-three fourth, which now measures a massive 240 yards.
"I didn't think you needed to mess with the fourth. It was cool as it was," he said.
I thought the seventh was a really great risk-reward hole where you could hit driver or you could hit an iron off the tee," said Woods. "Now it's playing totally differently."
Woods, who is usually keen to avoid controversy, is the latest in a long list of former champions to question the changes.
Legends angry at Augusta changes
Last month, six-times winner Jack Nicklaus accused Augusta National of "ruining" the course, while Nick Faldo said the extra yardage makes it impossible for him to win a fourth Masters title.
"I can't compete on a course like this," said the Englishman. "But fortunately I have three jackets in the locker room."
Faldo is particularly unimpressed by changes to the 11th, the scene of his play-off victories in both 1989 and 1990.
The tee has gone back 15 yards, making it a monster 505-yard par four, while trees have been added down the right and the fairway moved left.
We are comfortable with what we are doing with the golf course
Augusta National chairman Hootie Johnson "I think the change to the tee shot is a little heavy-handed," said Faldo. "The change is dramatic. It's not the same by miles. It's a shame.
But Player, who had criticised the changes in the build-up to the tournament, said on Wednesday that he had changed his mind.
"I was brainwashed about how abnormal it was," said the South African legend, who aims to play two more Masters so he can break the record for the most appearances.
"It's not abnormal. The guys are basically having to hit the same second shots that Jack Nicklaus had to hit (in his prime)."
And Augusta National chairman Hootie Johnson was unmoved by criticism of the changes.
"We are comfortable with what we are doing with the golf course," he said.