Arnold Palmer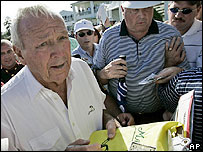 Legend Palmer bids golf farewell
Palmer signs autographs after his last competitive round of golf.
Golf legend Arnold Palmer says he has played his final competitive event.
The 77-year-old, who won seven major titles, made the announcement after retiring from the first round of a Champions Tour event with a bad back.
"I think this is it," said a tearful Palmer, who won four Masters, two Opens and one US Open in a glittering career.
"I'll play some father-son events, some charity events, and that's about it. Right now, there's just no thoughts of any more tournament golf."
Palmer turned professional in 1955 and won the first of his Masters titles in 1958.
That victory saw the creation of "Arnie's Army", his loyal legion of fans, and Palmer's rivalry with Jack Nicklaus was responsible for golf's massive rise in popularity.
To stand out there and not be able to make something happen is very traumatic in my mind
He also won at Augusta in 1960, 1962 and 1964 and claimed the US Open in 1960 and the Open in 1961 and 1962.
Palmer won 62 tour titles in total before joining the Champions Tour aged 50.
He won 10 events, including the US Senior Open in 1980 and the Senior PGA Championship in 1984 and 1985.
His last tournament win came in 1988 and his last PGA Tour event was the Masters in 2004.
"I've been doing this a long, long time," Palmer said. "First of all, to stand out there and not be able to make something happen is very traumatic in my mind.
"When the people all want to see a good shot and you know it, and you can't give them that good shot - that's when it's time.
"I may stop playing now, start exercising and get in shape and see if I can at least enjoy the simple golf that I always like to play.
"It's emotional for me because it's my life."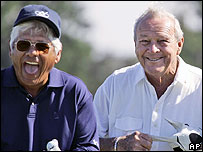 Palmer pulled out of the Administaff Small Business Classic event in Texas after just four holes but continued playing with partners Lee Trevino and John Mahaffey although he did not keep score.
Trevino, who knew early in the round that Palmer was having trouble playing, grabbed Palmer's ball and got his great rival to sign it and a glove after the final hole.
"After the third hole he was ready to throw it in," Trevino revealed. "I said, 'I'll get a cart, you don't have to play.' He said, 'No I can't go. I can't leave, but please don't put a score down'."
Jay Haas added: "I think the fans have kept him going for a long time."
"We will certainly miss him. He's "The King". You wish he could keep on going but all things must end."