Tiger Woods
Tiger Woods is taking an indefinite break
Tiger Woods's decision to take an indefinite break from playing golf to tackle problems in his private life has been met with a mixed reaction from his sporting colleagues.
The 33-year-old American, who has won 14 majors, four short of Jack Nicklaus's record, has admitted for the first time that he has been unfaithful to his wife Elin.
His decision to stop playing puts a new slant on a coming season that many thought could be his best yet, with three of the four majors being played on courses that he has triumphed on before.
He has won four Masters titles at the Augusta National including a record 12-shot victory in his first major as a professional in 1997.
The US Open is being held at Pebble Beach, where he won by record 15 strokes in 2000, while the Open returns to St Andrews, where he won two of his three Claret Jugs by eight and five shots in 2000 and 2005 respectively.
"His indefinite break is a savage blow to the sport. The PGA Tour was quick to express support for Woods's decision to take time out, but will be concerned at the prospect of trying to renew sponsor contracts next year with so much uncertainty surrounding the future of their biggest calling card.
He is undoubtedly the biggest figure in golf and has been for the last 10 or 12 years and he would be sorely missed, but the game's been there for hundreds of years and it's gone on.
In a statement on his website, he said he was aware of the disappointment "my infidelity" had caused to his family. The world's top golfer said he wanted to "try to repair the damage done" and asked for privacy.
His biggest sponsor, Nike, said it would continue to stand by him but Mr Woods's agent said it was too early to discuss any other business deals.
On his website, Mr Woods said he was "profoundly sorry" and asked for forgiveness.
In a separate statement on his website, he also indicated he would be taking some time off from his responsibilities with the Tiger Woods Foundation - a charity he set up with his late father to help young people. He said he knew his staff would continue efforts to maintain the foundation's work during his "absence".
Woods seals PGA National victory
Tiger Woods clinched his 68th PGA Tour win at the PGA National in Maryland, despite a superb last-round surge from fellow American Hunter Mahan.
Tournament host Woods, who shared the overnight lead with Anthony Kim, took the title by one shot after recording a three-under 67 for a total of 13 under.
Mahan equalled the course record with a 62 to tie for the lead before Woods pulled clear with a birdie at the 16th.
Kim finished on nine under - a shot ahead of Bryce Molder.
The highest placed Briton was Justin Rose, who carded a one-under 69 on his final round to finish at four under for the tournament.
It was Woods' third win of the season, having triumphed at the Arnold Palmer Invitational and Jack Nicklaus' Memorial in June.
"This golf course is not easy and we only have basically one real birdie chance coming in, which was 16," said Woods, who sunk a 20-foot birdie putt on the 16th hole.
"At the very end it started going left and it was like, 'Oh God just don't lip out now'. It went in."
Mahan matched the 18-hole course record of an eight-under 62, which was set in Thursday's opening round by fellow American Anthony Kim, to storm into the clubhouse lead.
"It was kind of in Tiger's court there," stated Mahan.
"The first three days were a little ugly. I swung great all week but today the putting was great. I'm just really proud of the way I finished."
Woods conceded he was surprised to see Mahan come from nowhere to challenge for the title.
"I don't know what golf course he was playing. I didn't see a 62 out there," added Woods.
"He put so much pressure on us. We had to play really well. There was a lot of heat back there."
The world number one finished sixth at the Masters and US Open this year after coming back from knee surgery but hopes to better that position in a fortnight when he takes part in the Open at Turnberry.
Woods 'not fully fit' until 2010
Tiger Woods has predicted that it will be another 18 months before he is fully recovered from knee surgery.
Woods, 32, is recovering from anterior cruciate ligament surgery and has not played since his dramatic US Open victory at Torrey Pines in June.
And the world number one predicts he will not be able to swing a golf club until January at the earliest.
"Over the next 18 months (the knee) will gain 100% strength, so it's a two-year process," said Woods.
"The healing process for an ACL is six months. No matter what I try to do, I can't speed up that process. That puts me into January. Unfortunately, I can't rotate, I can't practice on that leg until then.
"I believe the stat is after six months, the ACL is 85% in strength." 606: DEBATE Who is your golfer of the year?
The 32-year-old underwent his fourth operation on his left knee two days after beating Rocco Mediate at Torrey Pines to secure his 14th major title.
Woods, who won nine victories in 12 official events this year, said he was at the peak of his powers before surgery and was determined to compete at the highest level once he returned to health in 2009.
"I think I played better in this stretch that I have at any time in my career," said Woods, whose 65 career PGA Tour victories sees him trail only Jack Nicklaus (73) and Sam Snead (82).
"I may have won more major championships, but I certainly have never been in contention in as many events, or won as many events in a row. I had a pretty good run."
In July, Dr Thomas Rosenberg, one of the two surgeons who operated on Woods, said it was "highly unlikely" Woods's career would suffer any long-term effects.
Ogilvy ends Woods winning streak
Australia's Geoff Ogilvy held his nerve to win the WGC-CA Championship in Miami by one stroke, bringing Tiger Woods's remarkable winning streak to an end.
The 2006 US Open champion carded a one-under-par 71 for a 17-under total of 271, one shot clear of Retief Goosen, Vijay Singh and Jim Furyk.
Woods, the winner of his previous seven tournaments, had to settle for fifth.
Englishman Graeme Storm was one place and two shots further back after ending the weather-delayed event on 13 under.
Ogilvy parred his final nine holes on Monday, including a crucial chip-in at the 13th, while he had two birdies and a bogey on the front nine on Sunday.
Woods was not too downcast after his first defeat since last September's Deutsche Bank Championship in Boston.
"I made too many mistakes. I had four three-putts this week," said Woods.
"All in all, to only finish two back with all of that was a great sign.
You want to win all of them - I just have to get ready for the next one."
Ogilvy became just the third player to win more than one WGC event, joining Woods (15) and Darren Clarke (two).
Woods, who will now start to focus on next month's US Masters, said that the media and fans had not fully appreciated what his winning streak involved.
"I think the people that truly understand are the players," he said.
"I don't think you guys (the media) really understand or even the fans out there just how small the difference is.
"If I just cleaned up my round this week then obviously I am right up there with Geoff, if not just a little bit ahead.
"I had ample chances to get myself up there and win the tournament and I just didn't do it."
Stunning putt earns Woods victory
FINAL ROUND LEADERBOARD
(GB & Ire unless stated):
-10: T Woods (USA)
-9: B Bryant (USA)
-7: S O'Hair (USA), V Singh (Fig), C Kresge (USA)
Selected others:
-2: L Westwood
+3: I Poulter

Tiger Woods holed a remarkable 24-foot putt at the 18th to win the Arnold Palmer Invitational at Bay Hill as he continued his six-month winning streak.
The world number one arrived at the final hole level with Bart Bryant on nine-under-par but sank a birdie to clinch his seventh successive win.
Woods was in a five-way tie for the lead at the start of the final round.
He soon moved out on his own with a flawless front nine - holing three birdies, before that stunning finale.
"It didn't surprise me one bit," said Bryant. "You've still got to chuckle even though you're not surprised. Nothing he does anymore surprises me."
It marked a remarkable turnaround for Woods who was down in 20th place, seven shots off the lead, after the second day's play on Friday.
Vijay Singh led the way going into Saturday, but Woods produced an impressive comeback on the penultimate day to tie at the top of the leaderboard with the Fijian, Sean O'Hair, Bart Bryant and Bubba Watson.
Last year's winner Singh eventually had to settle for a share of third place with Americans Cliff Kresge and O'Hair after a final round 69.
Bryant, ranked 137th before this event, produced a consistent final round of 67 but could do nothing as he was left to watch a perfect putt from Woods for victory.
It is Woods's fifth career win at Bay Hill and means he is the first player in PGA Tour history to win four tournaments at least five times.
606: DEBATE Your thoughts on Tiger's dramatic win at Bay Hill
Of his winning putt, Woods said: "It's just like when I beat Phil Mickelson here a few years ago, only this time it was a bit deeper in the green.
"I had to at least make par to get in a play-off and lo and behold I made birdie. That's pretty good."
Next up is the CA Championship at Doral, which he has won six times.
Late surge gives Woods Dubai win
FINAL LEADERBOARD
(GB & Ire unless stated):
-14 T Woods (US)
-13 M Kaymer (Ger)
-12 E Els (SA), L Oosthuizen (SA)
-10 G McDowell, H Stenson (Swe)

Tiger Woods produced a brilliant run of birdies to win the Dubai Desert Classic by a shot after starting his final round four strokes behind Ernie Els.
Overnight leader Els played an uneven round and needed a birdie on the last to force a play-off with the American.
But his second shot on the par-five 18th plunged into a lake, handing the title to the world number one.
Woods played his last nine holes in six under par to finish with a 66, one shot ahead of Martin Kaymer on 13 under.
The talented 23-year-old German, a winner in Abu Dhabi last week, finished brilliantly, making birdie, birdie, eagle over the last three holes for a final round of 66.
Els's bogey six at the last saw him finish with a one-under 71 on 12-under, where he shared third place with fellow South African Louis Oosthuizen.
It was Oosthuizen who provided all the excitement early in the day.
The 25-year-old, who started his round on Sunday six shots off the pace in a tie for 17th, birdied the first three holes, before tearing into the back nine.
Oosthuizen went eagle, par, birdie, birdie, birdie from the 10th to briefly hold the outright lead at 13-under.
But a bogey six at the last effectively ended his chances.
That left the contest a straight battle between Els and Woods, and the American appeared to have burnt his bridges when dropping back to eight-under with a bogey five at the ninth.
He produced some electric golf over his final nine holes, however.
Starting his run with a birdie four at the 10th, he added three more at 12, 13 and 14, before parring 15 and 16.
Over the closing two holes his putter took on magical qualities.
After overcooking his chip at 17, he faced an uphill putt for birdie from the fringe which he sank to a roar of approval.
He looked likely to have to settle for a par-five at the last, when booming his five-wood approach into thick rough at the back of the green and barely reaching the green with his third shot.
But he then settled over a steep downhill, left-to-right putt from about 20 feet which trickled into the middle of the cup.
Looking back over the last two shots of his round, Woods said: "I could have put that chip right back in the water at 18.
"You have to make your mistakes short and if I leave it short just hit it up and try to make par.
"Then I just got to the green and the putt went in. It's the ideal start to the year going two for two."
Woods had won the previous Sunday in California's Buick Invitational, his first tournament of the year after a 10-week winter break.
His grandstand finished meant Els had to play the last three holes in one-under to force a play-off.
The South African parred 16, then hit a wild drive well right on 17, a short par four and a hole he had birdied on each of the previous days.
The result was another par, so Els had to birdie the last.
He hit a good tee shot, but with the green seemingly in range in two, found his approach swallowed up by the water in front of the green.
By then failing to get up and down in two from the drop zone, Els relinquished second spot to Kaymer, whose bid for a Ryder Cup berth is progressing well.
Els, beaten by Woods in a play-off in Dubai in 2006, said: "The second shot at 18, it was right where I wanted it, but I could see a gust got it in the air and it didn't have much of a chance in the end. But it was really right at it."
Kaymer refused to look as far ahead as the Ryder Cup, but added: "I heard from my manager that I can play at Augusta [the Masters] now and that's unbelievable too."
Woods strolls to comfortable win
FINAL LEADERBOARD
(US unless stated):
-19 T Woods
-11 R Imada (Jap)
-9 R Sabbatini (SA), S Cink
Selected others:
-6 P Mickelson
-3 K Ferrie (Eng)
-2 K Pettersson (Swe)
-1 V Singh (Fij)

Tiger Woods made a winning start to his 2008 campaign with a fourth straight victory in the Buick Invitational at Torrey Pines near San Diego.
Woods finished on 19 under, eight shots clear of Japan's Ryuki Imada, for his sixth win in the event overall.
It put him alongside Arnold Palmer with 62 career victories in joint fourth place on the all-time PGA Tour list.
Woods now only trails Sam Snead (82), Jack Nicklaus (73) and Ben Hogan (64) in the standings.
Palmer paid tribute to Woods's achievements, and said: "I'm sure that there are many, many more (wins) coming in the future, and I wish him all the luck in the world."
Woods began the third round eight shots clear of the rest of the field - his largest 54-hole lead since he led by 10 on his way to a 15-shot victory in the 2000 US Open at Pebble Beach.
He made the perfect start to his final round with a 40ft birdie putt at the first, and led by 10 strokes midway through the round.
Not even a run of three bogeys in a row from the 14th could stop his progress for long and he sealed his success with a birdie at the last.
"I wanted to go out there and make no bogeys and shoot something under par, so I got half of that right," Woods said.
He has now won the Buick in five of the last six years, and added: "Ever since junior golf, I really seemed to have played well here. It fits my eye, I feel very comfortable.
"It's just one of those things where some people just have an affinity for certain golf courses.
"My buddy (Mark) O'Meara won five times up at Pebble Beach, I guess Sam (Snead) at Greensboro and (Jack) Nicklaus at Augusta.
"Guys that have won a number of times at certain venues and somehow this golf course seems to have been pretty good for me."
Imada (Japan)was delighted by his final-day surge up the leaderboard, thanks to nine birdies, to finish second.
"That was my goal going into Sunday, and you know, that's almost like winning the golf tournament to me," he said.
"With Tiger having an eight-shot lead or whatever there was pretty much no chance for me to catch him."
Emphatic Woods wins Target World Challenge - Dec 2007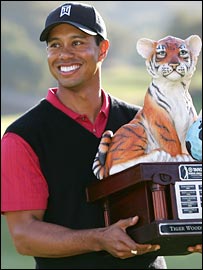 FINAL ROUND LEADERBOARD
US unless stated
-22 T Woods
-15 Z Johnson
-13 J Furyk
-11 L Westwood (GB)
-9 S Stricker, H Stenson (Swe)
-6 C Montgomerie (GB)
Selected others:
-1 P Casey (GB), L Donald (GB)
Tiger Woods cruised to a seven-shot victory to seal his fourth Target World Challenge title after a final round of 68 at the Sherwood Country Club.
Woods had seen playing partner Jim Furyk cut his six-shot overnight lead to two at the turn, but produced an outstanding back nine when it mattered.
US Masters champion Zach Johnson secured second place, finishing ahead of compatriot Furyk on 15 under.
Lee Westwood produced the best round of the day with a 66 to finish fourth.
The victory was all the more impressive as Woods had not played since the Presidents Cup in September.
The world number one and defending champion - who will donate the $1.35m (£670,109) prize money to his Tiger Woods Foundation - also equalled the course record at 22-under set by David Love III in 2000.
Woods had extended his overnight lead to seven shots after a superb approach shot at the second landed five feet short of the flag, a hole which Furyk bogeyed after finding water.
But the world number three produced four birdies in the first seven holes to put the pressure on Woods, who had bogeyed the seventh and ninth holes.
Furyk's hopes of challenging Woods ended though when he missed a four-foot putt on the 10th for a bogey four, a hole which his rival birdied.
"Jimmy (Furyk) put a ton of heat on me on the front nine," said Woods. "The whole tournament switched on the 10th. That was a big two-shot swing there."
Furyk's back nine went from bad to worse when he double-bogeyed the par-three 15th, ending his round on 71 to finish at 13 under, two shots behind Johnson.
Colin Montgomerie enjoyed his most successful day of the tournament, equalling Westwood's score of 66 to finish six under.
Woods wins again to pocket $10m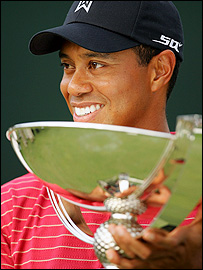 World number one Woods began the round with a three-shot lead.
Tiger Woods shot the lowest score of his career to win the Tour Championship by a staggering eight strokes.
FINAL ROUND LEADERBOARD:
(US unless stated)
-23 T Woods
-15 M Calcavecchia, Z Johnson
-14 S Garcia (Sp)
Selected others:
-10 V Singh (Fij)
-7 P Harrington (Ire), J Rose (Eng)
The American led throughout the final round, carding a four-under-par 66 at East Lake in the final event of the new FedEx Cup play-off series.
He finished on 23 under, two strokes better than his previous best total of 21-under at the 2000 NEC Invitational.
Victory was his fourth in his last five events and gave the world number one the FedEx Cup title and a $10m bonus.
It was also his 61st victory on the US PGA Tour, just one behind Arnold Palmer on the all-time list.
"It's been just a phenomenal week. I just hit shot after shot and when I got on the greens my speed was good all week," said Woods.
He started the final round with a three-shot advantage over fellow American Mark Calcavecchia and was a little shaky early on, with a bogey at the par-three second followed by a 10-foot par save at the third.
However, he soon found his groove, picking up three birdies in four holes starting at number six to go four shots clear at the turn.
He added three more birdies on the back nine before bogeying the 17th.
That did not stop him from shattering the tournament record by no fewer than six strokes.
Woods not only collected $10m for winning the FedEx Cup but also received 1.26 million dollars for winning the tournament.
Calcavecchia hit a 71 to share second place at 15 under with US Masters champion Zach Johnson, who carded a 68.
Johnson, who shot a course-record 60 in Saturday's third round, paid tribute to the dominance of Woods.
"You put pressure on him, he seems to step up his game," he said. "If he's behind you, he moves in front of you. It just doesn't seem to matter. He's unbelievable."
Flawless Woods claims 60th title
Woods moves to Atlanta atop the FedEx Cup standings
FINAL LEADERBOARD:
-22 T Woods (US)
-20 A Baddeley (Aus)
-18 S Stricker (US)
-14 A Scott (Aus)
-13 J Rose (Eng), T Clark (SA)
Selected others:
-9 I Poulter (Eng), R Sabbatini (SA)
-8 J Furyk (US)
-7 E Els (SA)
Tiger Woods carded a stunning eight-under-par 63 to win his 60th career title at the BMW Championship.
The win moved Woods to the top of the FedEx Cup standings heading into the Tour Championships next week, with $10m (£4.9m) for the points champion.
Woods, who began the day trailing Steve Stricker and Aaron Baddeley by a single shot, equalled the course record.
He reeled off three consecutive birdies from the seventh then sank four more to move clear on the back nine.
The victory left Woods just two behind Arnold Palmer in fourth on the all-time list, with Ben Hogan (64), Nicklaus (73) and Sam Snead (82) all within his reach.
"I never, ever would have dreamt that this would happen so soon," said Woods after becoming the fifth player to record 60 PGA Tour wins.
I didn't swing it well all day, but I stayed focused, worked hard and got a good score
"I've been out here 11 years - my 12th season and to have this many wins, I never could have foreseen that.
"It's been a lot of work. There have been some changes along the way but I think that's all been great."
Stricker and Baddeley kept pace through the first half of the rounds to leave all three men deadlocked with nine to play before Woods stepped up a gear.
Baddeley finished with a five-under 66 to finish runner-up on 20-under 264, with Stricker two strokes further adrift on 266.
England's Justin Rose, who played the final round with Woods, had a decent day, carding a 68, but he was never in the hunt after starting five shots back, finishing tied for fifth.
"I was just playing for a good finish," Rose said.
Still, Rose is the only British player to advance to the 30-man Tour Championship, with Luke Donald and Ian Poulter eliminated, Donald by the smallest of margins.
He finished 31st on the points list, one spot behind Irishman Padraig Harrington. Harrington, the Open champion, took the week off but still held on to the final qualifying spot.
Tiger Woods clinches a 13th major title
Tiger Woods clinched a 13th major title with a hard-fought victory in the USPGA at a steamy Southern Hills in Oklahoma.
The world number one held off a spirited challenge from Ernie Els and Woody Austin to inch to within five of Jack Nicklaus' major record.
The 31-year-old was three clear overnight but saw a five-shot lead whittled down to one before edging Austin by two and Els by three.
Woods carded 69 for -8, American Austin took 67 and South African Els shot 66.
Australian John Senden and American Arron Oberholser finished one under, while England's Simon Dyson carded a blistering 64 to rocket into a share of sixth at level par and guarantee a return next year.
MAJOR TITLES (US unless stated)
18 Jack Nicklaus
13 Tiger Woods
11 Walter Hagen
9 Ben Hogan, Gary Player (SA)
8 Tom Watson
7 Bobby Jones, Harry Vardon (GB), Gene Sarazen, Sam Snead, Arnold Palmer
6 Lee Trevino, Nick Faldo (GB)

Woods's victory gave him back-to-back USPGA titles for the second time - he won in 1999 and 2000 - and a fourth USPGA in all. Fellow Americans Jack Nicklaus and Walter Hagen lead the way with five apiece.
The win was built on a sensational round of 63 on Friday when Woods lipped out for birdie on the 18th to miss out by one shot on the record for the lowest score in major history.
A solid 69 on Saturday gave Woods a three-shot cushion over Stephen Ames going into Sunday's final round but the Canadian quickly melted away in the heat to end on two over after a 76.
Woods leaked a couple of wayward drives early on and his lead was cut to two after a bogey on the 2nd to journeyman Austin's birdie up ahead.
But as Woods settled down, the lead fluctuated between two and five shots as the challenges of Austin and Els ebbed and flowed.
Els, six behind overnight, missed golden birdie opportunities on the 9th and 11th but he and Austin both reconvened on six under, two back, after their 14th and 13th holes respectively.
Woods looked worried and a three-putt on 14 brought the gap down to just one.
But Els fell back again up ahead on 16 before Woods bounced back impressively with a 12 footer for birdie on the 15th.
Woods pointed at the cup as the ball dropped as if he knew that would be the death knell for his pursuers.
From then on he strolled unchallenged to his first major title of 2007 following second at this year's Masters and US Open and tied for 12th at the Open Championship in Carnoustie.
Woods' wife Elin and two-month-old daughter Sam were beside the 18th green to watch him hole the winning putt and he admitted that was a special moment.
Els followed up 4th at the Open with 3rd in the USPGA
The victory gave Woods 59 PGA Tour wins in 213 professional starts, fifth-best on the all-time list behind Arnold Palmer (62) and five off Ben Hogan in third. Sam Snead holds the career win mark at 82, nine ahead of Nicklaus.
All seven winners of majors held at Southern Hills have now led at both the 54 and 36 hole stage, while the winner of the USPGA has come from the final pairing for the past 11 years.
Els, 37, insisted he is going in the right direction following a fourth place at last month's Open.
"My putts on the 9th and the 11th holes and the drive on 16 are the three shots I'd like to have back," said the world number four.
Els won the US Open in 1994 and 1997 and the Open at Muirfield in 2002 and has had eight top 10s in majors since then.
But he missed most of 2005 after injuring his knee on a sailing holiday and is still trying to rediscover his previous form.
World number three Phil Mickelson carded 17 pars and one birdie in a closing 69 for six over as he struggles back from a wrist injury.
A breathtaking round of 63
Tiger Woods laid down his marker with a breathtaking round of 63 to lead by two shots at halfway in the 89th USPGA at Southern Hills Country Club.
The defending champion watched his 15ft birdie putt agonisingly lip out on the last to deprive him of the lowest score in major history.
The world number one's consolation was a halfway total of six under, two clear of Oklahoma local Scott Verplank (66).
Stephen Ames (69) and Geoff Ogilvy (68) ended three under.
Woods was six adrift overnight after an opening 71, but a birdie on the 1st signalled the 31-year-old's intent.
Two more birdies followed at four and five to get to two under before he stumbled with a bogey on the 7th.
But the fired-up Woods bounced back with birdies on nine, 10 and 13 to pass clubhouse leader Verplank and join Australia's Ogilvy on top at four under.
He also made a tremendous long-range putt at the 12th, after a misplaced tee shot had put him in trouble, to save his par.
"The putt on 12 was huge to keep the round going," said Woods.
Woods chipped in for another birdie on 14, while up ahead Ogilvy edged to five under. But Woods drained a long putt on 15 for a third straight birdie and was left on his own in front when Ogilvy bogeyed 17 and 18.
Woods then needed a birdie in the last three holes to break the major scoring record but ended with three pars when his birdie putt on 18 dipped into the hole before spinning out.
"I knew if I made that putt it would be a nice little record to have," he said. "I thought it had gone in. But 62.5 isn't bad."
Woods became the 23rd player to shoot a 63 in one of the four major championships.
Denmark's Thomas Bjorn was the last man to achieve the feat, posting the score in the third round of the 2005 USPGA at Baltusrol.
Verplank's heroics were rather overshadowed by Woods
Woods' previous low in a major had been the 64 he fired in the third round of the 1997 Open at Royal Troon. His career low in any PGA Tour event is a 61, achieved three times, most recently at the 2005 Buick Open.
Woods also matched the Southern Hills Country Club course record of 63 set by Raymond Floyd in the first round of the 1982 USPGA Championship.
"You just have to keep plugging along, one shot at a time," said Woods, who has yet to win a major this year. "It was not easy out there."
The 43-year-old Verplank had a bogey-free round, posting birdies on the ninth, 11th, 15th and 17th holes.
"This golf course is good for me," said Verplank, a diabetic who carries an insulin pump with him during rounds.
"The last two months I have really raised the level of my game. I have got to try and stay in my little zone."
Cheered by a boisterous home crowd, Verplank stayed cool in the 38C (100F) heat.
"I can feel the support and it's helpful," he said.
Verplank, who won the Byron Nelson Championship in April and has had five top-10s in his last six tournaments, said winning this week's major at Southern Hills would be special.
"It would be more than a dream come true," he said.
England's first-round leader Graeme Storm found it tougher going and added a six-over 76 to his opening 65 to slip to one over.
American John Daly, two adrift in second overnight, was undone by his cavalier approach and slid to a 74 for one over.
Ireland's Paul McGinley edged to level par with a four-under 66, while Ernie Els was also level after a 68.
"You can't think or believe that it's over," Els said.
"We all know he's number one and he's on form. That's kind of dangerous. But I'm playing well myself."
Ominously for Els and the rest, all six of the previous majors at Southern Hills have been won by the 36-hole leader, while Woods has won all seven of the majors he has led at halfway.
Woods storms to emphatic WGC win
Woods was one behind Sabbatini overnight.
FINAL LEADERBOARD:
US unless stated
-8 T Woods
Level J Rose (Eng), R Sabbatini (SA)
+1 P Lonard (Aus), C DiMarco
Selected others:
+2 A Romero (Arg) +5 P Harrington (Ire)
+6 S Garcia (Spa)
+7 L Westwood (Eng), E Els (SA), L Donald (Eng)

Tiger Woods brushed aside overnight leader Rory Sabbatini and stormed to a stunning eight-shot victory in the WGC Invitational at Firestone Country Club.
The world number one trailed the South African by one shot on Sunday morning but bludgeoned his way to a closing 65 for eight under par.
England's Justin Rose climbed into a share of second with Sabbatini (74) after a 68 for level par.
Woods has now won the event six times and claimed 14 WGC tournaments in all.
"I just figured if I could keep the card clean I would put a lot of heat on the guys to come and get me."
The 12-time major winner clinched his 58th PGA Tour title and fourth this season.
The 31-year-old overhauled Sabbatini with three birdies in the first four holes in wet conditions before running away with the tournament.
"That was fun," said Woods, who clinched a second hat-trick of wins in the event - a US Tour record
"You couldn't get off to any better start than I did today - I was four under through five.
"I just figured if I could keep the card clean - no bogeys - I would put a lot of heat on the guys to come and get me.
"All the guys at level par would then have to shoot a miracle back nine."
Sabbatini began the final round in controversial fashion after repeating his outspoken comments about going head-to-head with Woods.
At the Wachovia Championship in May, he talked up his chances after holding a one-shot lead over Woods going into the final round but dropped back into a tie for third as Woods triumphed.
In Ohio on Sunday, Sabbatini birdied the 1st but dropped shots at four and five as Woods breezed past.
Sabbatini double-bogeyed the 9th and dropped two more shots coming in, before a birdie on 17 edged him back up alongside Rose.
"I just made a couple of mental errors, put myself in a couple of bad positions and never really put any pressure on Tiger, and by the time I did I was too far behind," he said.
"Tiger performed better than the final round than he did at Wachovia. Hey, maybe I'm just spurring him on but I've just got to learn from it.
England's Rose picked up four shots in his first eight holes but his challenge ran out of steam with bogeys on 11 and 14 before a monster putt on the last nudged him to two under for the round.
"I'm delighted with the way I'm playing," said the 27-year-old Rose, who is inching closer to a significant win after going close in the Masters and US Open this year.
"I'm excited about the momentum I've built up going into next week and also pleased with the way I hung in there this week because I was off my game at the start of the week.
"I'm excited now and that's a great feeling going into a major championship."
Open champion Padraig Harrington of Ireland carded 72 for five over and a tie for 14th.
Argentina's Andres Romero, who led the Open with two holes left before winning his first European Tour event in Germany the following week, shot a 71 to tie for sixth.
The 89th USPGA Championship takes place at Southern Hills, Oklahoma from 8-12 August.
Woods's Open challenge falls away
Woods rarely looked like launching a challenge in a topsy-turvy round.
Tiger Woods's Open challenge faltered on the final day as he could only manage a final-round 70 to give him a Championship total of one under par.
The world number one started the day eight shots off Sergio Garcia's overnight mark, but birdies on four and five suggested he might make a charge.
However, three bogeys followed as he fell further behind the leading pack.
"I wasn't as sharp as I needed to be from tee to green this week and that is what cost me," he told BBC Sport.
"When I got to within putting distance I got that going nicely, but I just didn't get close enough often enough.
"That said, I had a chance this week. If I could have improved my iron play and my driving I would have been right up there so there's not too much to be down about.
"I've enjoyed myself even though it's been frustrating."
When asked about his immediate plans, the 31-year-old's thoughts immediately turned to wife Elin and newly-born daughter Sam.
"I've missed them so much this week," he said. "I've had a great time but I just want to get back home with my family."
US Open 2007
Second place is never fun - Woods
Woods reacts to the missed putt that would have forced a play-off.
A frustrated Tiger Woods was left to reflect on another second-place finish at a major this season and another failure to come from behind on Sunday.
The world number one carded a two-over 72 in the final round at Oakmont to finish one behind Angel Cabrera.
"Finishing second is never fun," said Woods. "You play so hard, it's just disappointing.
"My last four majors: one, one, two, two. Not terrible. But could have been a little bit better."
The 31-year-old American certainly had his chances at the US Open but when he needed birdies he could find only pars - seven of them in a row down the stretch.
"I wasn't that sharp on the front nine, that's for sure. I hit some poor iron shots," said Woods, who blamed two "bad chips" for his double-bogey at the 3rd.
"I hit the ball good on that back nine. I just needed, obviously, to make one more putt.
"I played well all week. I just need to analyse it and see where I went right and see what went wrong.
"I felt like I hit the ball pretty good. My pace on the greens, I thought, was really good, and I had just one three-putt all week."
Woods, who won the last two majors of last year to take his haul to 12, is still planning to continue his pursuit of Jack Nicklaus's record of 18 majors at Carnoustie next month. But that could change if his wife Elin looks like giving birth to their first child earlier than expected.
If he does skip the Open he will have until August to ponder on the fact that all 12 of his major wins came when he was leading or tied for the lead after 54 holes. He is now winless in 29 majors when trailing after the third round.
"I haven't gotten it done," admitted Woods, who has come from behind on the final day to win 16 PGA Tour titles.
"I put myself there, and haven't gotten it done."
FINAL LEADERBOARD:
(US unless stated)
+5 Angel Cabrera (Arg)
+6 Jim Furyk, Tiger Woods
+7 Niclas Fasth (Swe)
+9 David Toms, Bubba Watson
+10 Nick Dougherty (Eng), Scott Verplank, Jerry Kelly
+11 Justin Rose (Eng), Paul Casey (Eng), Stephen Ames (Can)
+12 Lee Janzen, Hunter Mahan, Steve Stricker, Aaron Baddeley (Aus)
Woods battles to Wachovia victory 2007
FINAL LEADERBOARD
US unless stated
-13 T Woods
-11 S Stricker
-9 P Mickelson, R Sabbatini (SA)
Selected others:
-5 B Langer (Ger) +1 P Harrington (Ire) +4 L Westwood (Eng)
+6 B Davis (Eng)
Tiger Woods overcame a mid-round blip to win the Wachovia Championships in breezy conditions in North Carolina.
Woods began the day one shot off the lead but holed a 57-foot eagle putt at the 7th and followed with consecutive birdies to be in control at the turn.
A double bogey at the 13th let Steve Stricker draw level, but Woods managed to hold his game together as his rivals fell away on the tricky closing holes.
Woods hit a three-under 69 to finish on 13 under, two clear of Stricker.
Phil Mickelson and overnight leader Rory Sabbatini finished tied for third on nine under par.
Woods was happy to acknowledge he was below his best on both Sunday and the rest of the tournament, his first since he finished joint second at the Masters a month ago.
"The back nine I struggled a little bit," Woods said following his battling final round.
"My goal coming in was to try to get the lead through 15. I figured if I parred in I'd probably win, because in these conditions you figure probably no-one is going to play those last three holes under par.
"This week I didn't really have my best stuff, but it was good enough.
"However, I made a lot of putts this week, some crucial par putts from six to eight feet, which you have to make."
The world number one finished six shots clear of Vijay Singh after the Fijian's challenge fell apart on the final stretch.
Singh had three birdies on the outward nine to move up the leaderboard but five dropped shots in the final five holes - including a triple bogey at the 18th - saw him fall back to finish in a tie for seventh.
Veteran German Bernhard Langer was the highest-placed European after a 69, one of the few sub-70 rounds on Sunday.
The former Ryder Cup captain finished on five under to earn a share of 10th place at the Quail Hollow Country Club in Charlotte.
Padraig Harrington, who had a disastrous 79 in his third round, also managed a 69 to finish on one over.
Woods rues bogey-bogey finishes in the 2007 Masters .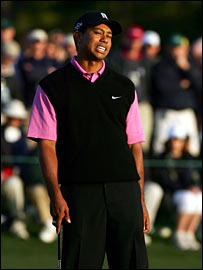 An angry Tiger Woods was left to regret mistakes made earlier in the tournament as everybody at Augusta reflected on Zach Johnson's surprise win on Sunday.
Woods finished two shots behind Johnson in a tie for second having carded a 72.
With that went his chance of a third straight major title, a 13th career major and a fifth Green Jacket.
"I had a chance and looking back I basically blew it with the two rounds when I finished bogey-bogey," he said referring to Thursday and Saturday.
"That's four over in two holes. You can't afford to do that and win major championships."
But the world number one struggled with his game on Sunday too from the moment he span the ball off the 1st green for a bogey.
A birdie at the 2nd gave the 31-year-old superstar a share of the lead and he briefly led on his own a few holes later before he spun another ball off the 6th green for another dropped shot. Another dropped shot came at the 10th.
But then a remarkable incident on the following hole seemed to kick-start his competitive instincts and briefly revive his hopes.
Another wayward tee shot at the par-four 11th left Woods with a horrible lie behind a pine tree. Despite having no room to follow through, he took a full swing at the ball, connected sweetly and smashed his club against the tree.
The club snapped and Woods was left wringing his hands, but the ball was up by the green and he would go on to save par.
"I kept plodding along," he said. "This course was playing very difficult. You just tried to give yourself as many chances for birdies as you could because they were hard to come by."
One of those chances came two holes later but it was not for a birdie. A magnificent approach to the 13th set up a tap-in eagle and suddenly Tiger seemed ready to pounce once more.
But Johnson refused to buckle up ahead and Woods was unable to extract any more shots out of the tough Augusta run-in. In fact, he found water with his second at the next par-five and needed all his powers to save par.
With his 72 matching his best round this week, it was the first time Woods failed to shoot at least one under-par round at Augusta since winning here in 1997.
"It was a little bit frustrating," he said. "I just made a couple of mistakes out there today."
Woods, however, was not the only big name left disappointed by his Augusta effort, defending champion Phil Mickelson saw his hoped-for Sunday challenge come unstuck with a triple-bogey at the 1st.
"I'm already thinking about the US Open, I'd like nothing more than to come back with a victory," the left-hander said after carding a five-over 77 to finish 10 shots behind Johnson.
"I'll be spending a lot of time at Oakmont trying to get a good game set up there."
The 36-year-old, Masters champion in 2004 and 2006, began the final round four shots off the lead and kept plugging away despite his terrible start.
"I felt if I could get it back to even by the turn I would have a chance but I just didn't make any birdies," he said. "This just wasn't my day.
"I didn't feel I played that well or certainly as well as I wanted to but I fought hard to stay in there and had a good chance going into Sunday and that's what I wanted."
The Tavistock Cup
Tiger Woods hit an eight-under 64 to win the individual prize at the annual Tavistock Cup match between Isleworth and Lake Nona golf clubs in Orlando.
It was the third consecutive year that Woods has scooped the individual prize.
Despite the American's efforts, his Isleworth team lost 22-8 in the two-day event to Ernie Els' Lake Nona team.
Lake Nona's best score came from Justin Rose, whose 66 was a massive boost to the English player after missing three events with a back injury.
"It's been a nightmare," he said. "The goal has been to get fit for Augusta next week and hopefully I'm there."
Woods started slowly at the Lake Nona club but a run of seven straight birdies from the 8th eased him to the individual title.
He said that his build up to the Masters will begin almost immediately back at the Isleworth Club.
"I'm just happy that I get to take a little break on Wednesday, take some time off, then start to grind a little bit later in the week," he said.
Northern Ireland's Graeme McDowell would have finished ahead of Rose but for two closing bogeys.
He had to settle for a 67 and tied for third with Mark O'Meara and Retief Goosen.
Isleworth had trailed 10-0 after the opening day with the second day consisting of fourball singles matches.
Each player in the five fourballs competed in strokeplay singles against his two opponents.
Woods does enough to defend title at Doral
FINAL LEADERBOARD
(US unless stated):
-10 T Woods
-8 B Wetterich
-6 R Allenby (Aus), S Garcia (Spa), G Ogilvy (Aus)
Selected others:
-4 P Casey (Eng)
-3 E Els (SA)
-2 I Poulter (Eng)
-1 P Harrington (Ire)
Level P Mickelson
Tiger Woods came through a scrappy final round in blustery conditions to defend his WGC-CA Championship crown.
Some ragged play from the world number one saw him mix four birdies with five bogeys but it was enough to claim a two-stroke win at Doral in Florida.
The field failed to respond to Woods' errors with American Brett Wetterich closest and Robert Allenby, Sergio Garcia and Geoff Ogilvy tied for third.
England's Paul Casey had a good weekend to finish tied for ninth on four under.
The victory was the 77th of Woods' remarkable professional career and his 13th in a World Golf Championship event. It was also the sixth time he has won this particular tournament in eight attempts.
Six months after taking the title by eight at The Grove near Watford, the 31-year-old American was never really challenged here.
No one really put any pressure on (Tiger) today - it was kind of easy on him
Brett Wetterich
He was out in 35 with three birdies and two bogeys and six clear after he became the only player all day to find the green in two at the par-five 10th.
That two-putt birdie was followed by another three-putt bogey, however, and he dropped another shot on the 13th when he missed from seven feet.
Playing partner Wetterich shot himself in the foot by having bogey sixes at both the 1st and 12th, but when he birdied the 15th and 16th he did bring the gap down to three.
With the 18th such a dangerous hole he could have made things really interesting by holing a 10-footer at the 17th, but missed it.
As a result Woods was able to take a two-iron off the final tee and gave no thought to going for the green in two on the par four. But even then there was a chance of a three-stroke swing when Wetterich fired his second to eight feet.
Woods third was long and finished in a similar spot from which Mark Calcavecchia had earlier putted into the lake. But the 12-time major winner judged the pace beautifully and even with a bogey he was home and dry when Wetterich left his birdie attempt short.
With a 70 Garcia climbed into a tie for third on six under with Australians Ogilvy and Allenby, whose 67 was the low round of the day, while Swede Niclas Fasth and Casey were one stroke further back.
Casey began the week under the weather and with a round of 76, so his comeback keeps his Masters hopes high.
"I'm making lots of birdies. I've just got to eliminate the mistakes," he said.
Garcia is starting to look more confident even though he still has not won for over 18 months.
"Pretty good overall," he said of a performance which included chipping in on the 15th just after playing partner Fasth had done the same.
Garcia is likely to be fined for a spitting incident during Saturday's third round, although the PGA Tour has been tight-lipped about the affair.
The 27-year-old Spaniard spat into the bottom of the cup on the 13th green after three-putting for bogey on the par-three hole.
Singh surge clinches Bay Hill win
FINAL LEADERBOARD
(US unless stated):
-8 V Singh (Fiji)
-6 Rocco Mediate
-5 V Taylor
Selected others:
-3 S Garcia (Sp)
-1 L Donald (Eng)
+3 T Woods
+8 C Montgomerie (Sco)
Vijay Singh survived two bogeys over the last three holes to clinch the Arnold Palmer Invitational on Sunday.
Singh carded a three-under-par 67 final round and eight under overall to claim his 31st PGA tour title.
American Rocco Mediate, who chipped in for eagle at the par-five sixth, secured second place with a 67.
Sergio Garcia of Spain was the highest finishing European and he shot a final round 71 to claim joint fifth while England's Luke Donald was eighth after carding 69 in round four.
Tiger Woods was five shots behind at the start of the day and birdied the first two holes to give signs of launching an attack.
But he dropped six shots in the final three holes as he found the water at the par-three 17th, which he double-bogeyed, and the par-four 18th, where he made triple.
He took 43 strokes coming home and matched his career worst total for nine holes.
His only other 43 came on the front nine in the second round of the 1996 Tour Championship at Southern Hills in Tulsa, Oklahoma.
Woods, a four-time winner at Bay Hill, shot 76 to tie for 22nd at three over.
Woods stages charity tournament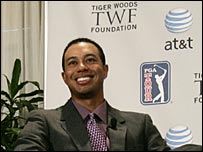 The Wood's run stops !
ROUND FOUR LEADERBOARD - Dubai
(GB & Ire unless stated):
-19 H Stenson (Swe)
-18 E Els (SA)
-17 N Fasth (Swe), T Woods (USA)
-16 R Fisher
Selected others:
-12 C Montgomerie
-11 A Coltart
-9 D Clarke, P Price, P Casey
-8 L Westwood, P Broadhurst
Sweden's Henrik Stenson carded a four under par final round of 68 to ensure a one-shot victory in a thrilling end to the Dubai Desert Classic.
The 30-year-old finished 19 under for the tournament, holding his nerve on the last to repel overnight leader Ernie Els, who was second on 18 under.
Tiger Woods ended tied third with Niclas Fasth on 17 under after their respective rounds of 69 and 68.
Englishman Ross Fisher's final round of 71 earned him fifth place on 16 under.
Stenson reached the par-five 18th with a one stroke lead over Els, who started the day two shots ahead but lost vital ground with three bogeys in the first six holes.
He laid up in two while Els hit over the back of the green but Dubai-based then Stenson hit a superb approach over the water to 10 feet and calmly sunk the winning putt.
But it was the world number 14's four-under back nine of 33 - including a run of three birdies in four holes from the 11th - that really set the platform.
"I fought hard all week and to beat Ernie by one shot feels awesome," said Stenson, who was ably assisted by Nick Faldo's former caddie Fanny Sunesson.
"I hit a pretty good approach at the last and I could not have left myself a better putt than that one.
"Living down here in Dubai and having my friends and family with me this week is something special."
"It is also nice to beat Tiger obviously," he added. "It is probably the first tournament I have won that he has been in."
Els was magmanimous in defeat and added: "Henrik played great.
"I knew after the start I just wanted to give myself a chance coming down the stretch but some of the strokes I made out there were not quite me."
Woods earns seventh straight win
FINAL LEADERBOARD
(US unless stated):
-15 T Woods
-13 C Howell III
-12 B Snedeker
-11 B Watson, M Calcavecchia, A Buckle (Aus)
-10 B Bryant, J Quinney
Selected others:
-9 I Poulter (Eng)
-1 P Mickelson, J Rose (Eng)
Tiger Woods overturned a two-stroke deficit in the final round at the Buick Invitational in San Diego to win his seventh consecutive PGA Tour title.
It is the second longest winning streak in PGA history behind Byron Nelson, who holds the record with 11 straight wins.
A round of 68 fired Woods to 15 under and a two-shot victory over Charles Howell III, with overnight leader Brandt Snedeker a further shot behind.
England's Ian Poulter finished ninth and Justin Rose joint 51st.
Woods had a solid outward nine holes with three birdies and an eagle at the ninth to put him into contention.
He did drop a shot at the 7th, but further birdies at the 13th and 17th gave him a 15 under total and sealed his third successive win at the event.
Woods had been seven strokes adrift at halfway, but a bogey-free third round of 69 brought him into sight of the leaders.
Australia's Andrew Buckle, joint leader overnight with Snedeker and twice a winner of the world junior title on the same course, was going well until a double bogey at the 12th after he missed the fairway.
Further bogeys at the 15th and 16th and 17th ended his challenge.
Howell's challenge started badly with a bogey at his opening hole and although he managed six birdies in his round, it was not enough.
He had a chance at the last when he reached the 18th green in two, but he missed a long eagle putt and three-putted for par.
"It's pretty elite company to be mentioned in the breath of Mr Nelson," Woods said.
"There's only one person that's ahead of you and he's one of the greatest legends in the history of the game.
"Winning breeds winning and the more you win, the more you understand how to do it, and you do it different ways.
"I've done it with great ball-striking, I've done it with lousy ball-striking. I've done it with great putting and so-so putting and sometimes I've done it with my short game."
Woods has not finished worse than second since the Western Open last July, also posting runner-up spots at the HSBC Champions tournament in China and the Dunlop Phoenix in Japan last November.
He did, however, lose in the first round of the World Match Play, an event not sanctioned by the PGA Tour, to fellow American Shaun Micheel.
His next PGA Tour event will be either the Nissan Open in Los Angeles from 15 February or the WGC-Accenture Match Play Championship in Tucson, Arizona from 21 February.
Woods keen to keep up winning run in 2007
Woods chose to sit out the first tournament of the year Defending champion Tiger Woods will be hoping to keep up his amazing winning run when he makes his 2007 debut at the Buick Invitational in California. Woods has won the last six PGA Tour events he has played, as well as two non-Tour events at the end of 2006. The tour record is Byron Nelson's 11 wins.
"You've got to keep plugging along and make sure you peak at the right times," he said ahead of Thursday's tee-off.
"The whole idea is to play well leading up to the tournament."
To play four rounds against a quality field like this and come out on top it always gives you a shot of confidence going into next year
The last time Woods failed to win a PGA Tour event was over six months ago, when he finished runner-up in the Western Open.
The run of success includes the Open and the USPGA, so victory in the US Open and the Masters would see him manage a clean sweep of the majors for the second time.
Woods' last win of 2006, the non-tour Target World Challenge, came after second-place finishes in two other non-tour events in China and Japan.
He said ending the year on a winning note set him up well for the 2007 campaign.
"It was a real nice positive because the last two 72-hole stroke play events I finished second and I didn't want to have it a third straight time," he said.
"To play four rounds against a quality field like this and come out on top, it always gives you a shot of confidence going into next year."
Joyful Woods to become a father
Woods, who announced at the end of last year that he is to become a father for the first time, chose to miss the season-opening Mercedes Championship in Hawaii.
In his absence, that was won by Vijay Singh, who is the only other top 10-ranked player to be playing in the Buick tournament at Torrey Pines, apart from Phil Mickelson.
Last year's runner-up Jose Maria Olazabal and Justin Rose are also taking part.
Tiger to become a father
Tiger Woods has announced on his 31st birthday that he and his wife Elin are expecting their first child in 2007.
The American world number one said on his website: "Obviously, we couldn't be happier and our families are thrilled.
"I have always wanted to be a dad. I just wish my father could be around to share the experience."
Woods, who married his Swedish wife in October 2004, lost his father Earl in May this year when he died after a long battle with cancer.
Woods has decided to skip next week's season-opening Mercedes Championship in Hawaii to spend more time with his family.
The 12-time major winner will launch his 2007 PGA Tour campaign with his title defence at the Buick Invitational near San Diego on 25 January.
Latest Report from Tiger Woods
Target World Challenge 14th - 17th Dec 2006
FINAL LEADERBOARD
-16 T Woods
-12 G Ogilvy (Aus)
-11 C DiMarco
-9 H Stenson (Swe)
-8 P Casey (Eng), C Montgomerie (Sco)
Tournament host Tiger Woods cruised to his 11th title of the year with a four-shot victory at the Target World Challenge on Sunday.
Woods fired a six-under-par 66 to finish on 16 under at Sherwood Country Club, four shots clear of Geoff Ogilvy.
Woods carded five birdies over the front nine before ending with two birdies in the last three holes.
Chris DiMarco finished third on 11 under, with Paul Casey and Colin Montgomerie tied for fifth.
The win at Sherwood Country Club caps a fine six months for Woods.
After missing the cut at the US Open nine weeks after the death of his father Earl, Woods never finished worse than second place in stroke play the rest of the year.
Woods said: "It's been a year of two halves.
"On the golf course it's been something else to have things coming together, especially winning two majors."
Faultless Woods surges to victory
Woods was pleased with his putting FINAL LEADERBOARD: -8 T Woods (US) -6 J Furyk (Aus) -2 G Ogilvy (US) +1 M Weir (Can)
World number one Tiger Woods fired a bogey-free six-under 66 to retain his PGA Grand Slam of Golf title.
The 30-year-old American, who ended the 36-hole competition at Hawaii's Poipu Beach on eight under, has now won the event seven times in eight starts.
Woods began day two three shots adrift of overnight leader Jim Furyk but ended it two ahead of his fellow American.
US Open champion Geoff Ogilvy (-2) and Canadian Mike Weir (+1) were third and fourth in the four-man tournament.
The event is supposed to be contested by the four Major winners, but Woods won two of them (Open and USPGA) while Masters champion Phil Mickelson opted not to play.
Furyk gained an invite for finishing second on the PGA Tour money list while Weir replaced fellow left-hander Mickelson.
Woods carding birdies on the second and third holes to climb back into contention before adding two more to go into the turn with the lead.
"I certainly hit it better than I did yesterday," said the 30-year-old star.
"I putted well again. But more importantly, I got the three-shot lead that Jim had on me down to one for the first three holes.
"The conditions being that tough, I thought that was probably the most ideal start I could have had, is to be able to pick up two shots that fast.
"Overall, I really hit the ball crisp and clean, which was nice."
Furyk, a part-time resident of Hawaii and 2003 Grand Slam champion, birdied the 18th to trim his countryman's advantage to a single stroke.
But Woods immediately hit back with a birdie at the last to seal his two-shot victory.
WGC Event
Woods eases to win despite rain
Woods led from start to finish
FINAL LEADERBOARD:
GB & Ire unless stated
-23 T Woods (US)
-15 I Poulter, A Scott (Aus)
-14 J Furyk (US)
Selected others:
-13 E Els (SA)
-11 L Donald
Tiger Woods withstood some terrible weather at The Grove to win the World Golf Championship by eight strokes.
The world number one began the final day leading by six and, after two rain delays totalling almost three hours, posted a 67 for a 23-under total.
That left the American eight clear of England's Ian Poulter and Australia's Adam Scott, with compatriot Jim Furyk a shot further back.
Woods has now won six consecutive strokeplay tournaments.
"We had it all with the weather today - all we didn't have was snow," he said.
"It was just a day of patience and not making any bogeys. I made one, unfortunately."
Birdies on the second and fifth holes ensured Woods was not going to feel under too much pressure but he still needed seven-and-a-half hours to complete his round because of the weather.
There were two more more birdies for the American, with a single blemish on the 12th, before Woods sealed the win with yet another birdie on the last.
Furyk spent most of the final day alone in second place but finished with two fives to slip behind Poulter and Scott with a 69.
The American will still move ahead of the absent Phil Mickelson to second in the world rankings.
Woods is keen to get home after playing in seven of the last nine weeks.
"I'm looking forward to getting in the water, going diving and getting away from the game for two weeks," he said. "I'm a little fried."
Round 3
Woods finds form to extend lead
Woods said he was frustrated by his inconsistent putting at The Grove
R3 LEADERBOARD:
GB & Ire unless stated
-19 T Woods (US)
-13 A Scott (Aus)
-12 B Quigley (US), J Furyk (US)
Selected others: -10 I Poulter, H Stenson (Swe), D Howell -9 E Els (SA), P Harrrington -8 L Donald -2 D Clarke
Tiger Woods went through the gears on the back nine to shoot a 67 and take a six-shot lead into the final round of the WGC Championship at The Grove.
Starting the day with a five-shot lead, Woods putted poorly early on to allow the chasing pack to within two shots.
Stewart Cink and David Howell put the pressure on, but birdies at the 12th and 15th and a brilliant eagle at the last saw Woods stay clear at 17 under.
Adam Scott was second at 13 under, with Brett Quigley and Jim Furyk in third.
Scott made an excellent 65 - the best round of the day - thanks to six birdies.
Cink's challenge petered out on the back nine as he made three bogeys to finish at 11 under, while Ian Poulter, Henrik Stenson and Howell were all on 10 under.
Woods played superbly from tee to green on the front nine, but some inconsistent putting meant the world number one's scorecard only showed pars for the first seven holes.
A three-putt bogey followed at the eighth for Woods, as Howell and Cink made early headway to close the gap.
But Woods showed his class as he birdied the ninth before turning on the style on the way back to the clubhouse, and ending the round with his third straight eagle at the 18th courtesy of a 30-foot putt.
Nevertheless, Woods was disappointed with his putting at The Grove on Saturday.
"I hit the ball better than in the first two rounds," said Woods.
"But I just made nothing on the greens - it was very frustrating.
"There's still some work to do and I just want to end the tournament with a win."
But Woods' title charge will start earlier than originally planned on Sunday.
The threat of thunderstorms and heavy rain on Sunday has led to organisers bringing forward the final round tee-off to 0900 BST, with the leaders starting around 90 minutes later.
Round 2
Flawless Woods takes firm control
Woods has already won seven times this year on the PGA Tour
Tiger Woods continued his domination of the WGC Championship at The Grove with a seven-under-par 64 in round two.
The world number one, 30, fired his second successive eagle at the 18th hole and also carded five birdies in his round at the Hertfordshire course.
Woods holds a five-stroke lead over fellow Ryder Cup representatives David Howell, Stewart Cink and Jim Furyk.
Padraig Harrington, who also featured at the K Club in Ireland last weekend, is a shot further back on nine under.
Brett Quigley matched fellow American Woods for the best round on Friday with his 64 moving him up to eight under.
Woods, who started at the 10th, bagged just one birdie in his first eight holes.
But then he hit a 249-yard second shot to 10 feet at the 18th, rolled in the putt and was simply unstoppable after that.
"I played better today without a doubt," said Woods. "I hit the ball more clean, more crisp and controlled my flight better."
Howell, who is on course to regain top spot on the Euopean Order of Merit from the struggling Paul Casey, shot a 66.
Cink had an eagle at the 18th in his 67 while Furyk shot 65. Harrington's round was spoiled by a closing bogey as he ended up carding a 69.
The last player to beat Woods in strokeplay was Trevor Immelman at the Western Open in Illinois on 9 July.
Round 1
Woods off to a flyer at WGC event
Woods was firing on all cylinders after his K Club disappointment
Tiger Woods put the Ryder Cup firmly behind him with an awesome opening nine holes and an eagle finish to lead the World Golf Championship by a stroke.
Woods stormed to the turn in just 29 shots and then holed from 20ft on the last for an eight-under round of 63.
His grandstand finish hauled him past Ireland's Padraig Harrington and Ian Poulter of Britain, who share second.
Woods, seeking a fifth win in the event, had a poor Ryder Cup by his high standards as Europe thrashed the US.
But he was back to his best in the opening round at The Grove, near Watford.
His only dropped shot came at the 17th when he made a rare mistake and overshot the green with his approach.
"I hit the ball really well, birdied the par-five second and from then on I was in position to make quite a few birdies," said Woods.
"I hit the ball close enough and hit some good putts and once the balls were going in I got momentum.
"Some golf courses you feel comfortable on when you first play them. I feel comfortable about shaping the ball round this course."
Harrington admitted Europe's Ryder Cup triumph at the weekend, when he won only half a point from five matches, had left him drained.
"Monday, Tuesday, Wednesday I was extremely tired," he said.
"I played a practice round on Wednesday and it was the hardest 18 holes of golf I have had to play in terms of not wanting to be out on the course.
"But I am always up for a tournament and it helped that I started with a couple of birdies - that caught my imagination."
England's David Howell carded a 66 that gives him hope of overhauling Paul Casey at the top of the European Order of Merit.
Players wore black ribbons at The Grove in memory of golf legend Byron Nelson, who died aged 94 on Tuesday.
US Ryder Cup captain Tom Lehman withdrew from the event so he could attend Nelson's funeral in Texas.
Woods claims fifth straight title
Woods has won 53 events on the PGA Tour
FINAL LEADERBOARD:
US unless stated
-16 T Woods
-14 V Singh (Fij)
-8 B Bateman
-7 R Allenby (Aus), J Rose (Eng)
Selected others: level R Karlsson (Swe)
Tiger Woods surged to a remarkable fifth straight PGA Tour tournament win with a final-round 63 at the Deutsche Bank Championship in Boston.
Woods, who finished on 16 under par, trailed Vijay Singh by three going into the final day but finished two shots ahead of the Fijian, who carded a 68.
Brian Bateman was third while England's Justin Rose shot a final-round 72 to finish in a tie for fourth.
World number one Woods won six consecutive tournaments in 1999-2000.
Byron Nelson holds the record, winning 11 in a row in 1945.
Woods is now out on his own in fifth in the all-time standings for PGA Tour victories with 53.
Woods followed a second place at the Western Open with wins at the Open, Buick Open, USPGA, WGC-Bridgestone Invitational and now in Boston.
"It's fun when things like that come together," said Woods, who also equalled his lowest final round.
"I talked to Hank [Haney, his coach] last night because I wasn't happy with my swing and it was better today."
World number three Singh, who shot a 61 on Sunday, said: "Tiger was unbelievable. His two eagles [at two and seven] took it away from me.
"I still thought I had a shot on the back nine but I didn't make enough putts. I was still proud of myself. I played well but I just came up short."
Woods covered the front nine in 30, grabbing eagles ay the second and seventh and birdies on the third and fifth.
Singh cut the gap back to two on the 12th and looked set to be only one behind when he almost pitched in at the 15th.
But Woods responded with a 14-foot putt for a matching birdie three and rolled home a 25-foot putt two holes later to kill off Singh's challenge.
Woods' next three appearances are all in Europe - the HSBC World Match Play at Wentworth next week, followed by the Ryder Cup and the American Express World Championship at The Grove near Watford.
WGC-Bridgestone Invitational title
Woods sees off Cink in play-off
10 Tiger Woods*, Stewart Cink -9 Jim Furyk -7 Paul Casey (Eng), Angel Cabrera (Arg), Davis Love III, Lucas Glover -6 Luke Donald (Eng), David Toms *Woods wins after play-off
Tiger Woods continued his rich vein of form by defending his WGC-Bridgestone Invitational title - but only after overcoming Stewart Cink in a play-off.
Woods finished level with Cink at 10 under after 72 holes in Akron.
But the newly-crowned USPGA champion eventually prevailed against his fellow American at the fourth extra hole.
Britain's Paul Casey secured his place in the European Ryder Cup team by finishing joint fourth, three shots off the lead after a one-over-par 71.
Compatriot Luke Donald was a shot further back on six under.
Woods lost a three-stroke lead in the last five holes but hit back to seal victory.
An eight-foot birdie eventually gave the world number one the first prize of nearly £700,000, 10 years to the day after he turned professional.
"I was very lucky to even be in a play-off," said Woods after clinching his fifth victory at Firestone Country Club in seven starts and the 52nd PGA Tour title of his career.
"I wasn't swinging the club very consistently today at all.
"I got hot on the back nine, made some nice putts and messed up on 16. But it's always nice to walk away with a win, however you do it."
Woods now lies joint fifth with Byron Nelson (52) in the all-time standings for PGA Tour victories.
Only Arnold Palmer (62), Ben Hogan (64), Jack Nicklaus (73) and Sam Snead (82) have won more.
Casey led by one with nine holes to play but slipped out of contention by completing the last eight holes in three over.
"I'm very happy with that," said the 29-year-old Englishman.
"I thought I played OK. I just didn't make anything on the back nine and was a little bit unlucky on the 16th."
Paul McGinley's hopes of joining Casey at the Ryder Cup took a slight knock, the Irishman finishing 66th.
He is now in the 10th and last automatic spot.
Tiger Woods wins his 12th major at USPGA
The 30-year-old American, who started the day tied for the lead at 14 under with England's Luke Donald, shot a four-under 68.
World number one Tiger Woods won his 12th major championship with a superb five-stroke victory at Medinah. an 18-under total.
Shaun Micheel, the 2003 champion, claimed second after a three-under 69.
Donald carded a two-over 74 to finish a shot back on 12 under alongside Spaniard Sergio Garcia and Australia's Adam Scott.
But the only story that really counted on Sunday at the Illinois course was Tiger's.
Woods' 12th victory in one of golf's four major championships means he now trails only Jack Nicklaus' haul of 18 wins.
The Californian superstar has reached his dozen in 40 attempts - it took the Golden Bear 48 majors to bring up his 12th win.
Tiger said "Starting the day it could have gone any which way and winning on this course, against this field, I feel very fortunate".
This was also the 12th time out of 12 that Woods, perhaps the best front-runner in world sport, has converted a 54-hole lead at a major into victory.
It is also his third USPGA triumph - his second at Medinah - and third straight tournament win, following his successes at the Open last month and the Buick Open earlier this month.
So complete was Woods' mastery that by the back nine the only issue in doubt was whether he would set a new record for the lowest score under par in major history.
Having got to 19 under after 11 holes - the same score he managed at St Andrews in 2000 to set the record - it seemed another entry in the record books was his for the taking.
But a bogey at 17 stopped his charge and he was forced to settle for merely matching the USPGA best he set with Bob May in 2000.
Afterwards Woods was as modest and gracious in his interviews as he had been bullying and relentless during his round.
"I didn't feel as comfortable as I looked," he said. "I made some bombs on the greens, putts you probably shouldn't make.
"I just had one of those days and honestly was just trying to get the ball on the green.
Too many putts were just missing the hole for me but in the end he deserved to win
Luke Donald said "Starting the day it could have gone any which way and winning on this course, against this field, I feel very fortunate."
With hindsight, the 28-year-old Donald and co did not really stand a chance.
The Chicago-based Englishman did not play as badly as his birdie-free round would suggest, but he never looked comfortable in the great man's presence all day.
While Woods was tearing up the course on the front nine, the usually precise Donald was missing fairways and greens for the first time this week.
"Tiger played very solidly. He made a fast start, which made a big difference, and he didn't do too much wrong," said Donald, who also finished in a tie for third at the 2005 Masters.
"Too many putts were just missing the hole for me but in the end he deserved to win."
The world number 11 will no doubt have learned much from watching the world's best player go about his work and can console himself with the fact that he is now a certainty for the European Ryder Cup team in September.
As is Garcia, whose two-under 70 contained the usual mix of mighty blows and missed putts.
Micheel's return to the upper reaches of a leaderboard will surprise many, as he had not made a cut at a major for two years, but he played well all week and clearly likes this tournament.
Mike Weir was another man who enjoyed a good 2003 that played well this week.
How many majors will Tiger have won by this time next year?
The Canadian will be disappointed with his finish, though, as he dropped four shots in eight holes to fall from second to sixth.
And Scott's first good result at a major will be seen as long overdue for a player of his class.
The 26-year-old Australian, who is ranked sixth in the world, carded a five-under 67 to beat his previous best finish of a tie for ninth.
Further down the leaderboard there were good returns for Korea's KJ Choi and American Steve Stricker.
While England's Ian Poulter claimed his first top-10 finish in a major, a share of ninth alongside talented American Ryan Moore and US Open champion Geoff Ogilvy of Australia.
But world number two Phil Mickelson endured a horrid day.
Outscored by playing partner Poulter to the tune of three shots, the defending champion could only manage a two-over 74 for a six-under total - 12 behind Woods.
That margin will hurt the 36-year-old American but not as much as the nine-major advantage his younger rival now holds.
Coming into the US Open in June there had been much talk of a "Lefty Slam" as Mickelson had won the two previous majors.
Anybody who witnessed Woods' display here now be talking of a second "Tiger Slam".
2nd Round of USPGA
Woods throws down Medinah marker
Major winners Mickelson, Ogilvy and Woods were difficult to separate, until Tiger Woods made an emphatic statement of intent with his birdie on the 18th to climb to within one stroke of the lead in the second round of the USPGA.
Woods, 30, had not fired on all cylinders but ground out a 68 to catch one playing partner, Geoff Ogilvy, and keep the other, Phil Mickelson, at bay.
Ogilvy also shot 68 for seven under as Mickelson limped to 71 and four under.
"I didn't do anything special. I just hung around and didn't make any mistakes," said Woods.
"You've got to go out there and understand there's going to be a bunch of guys probably within four or five shots of the lead, and go out there and make some birdies here, and there, and try not to give anything back."
South African Ernie Els carded a two-under 70 for three under overall, while countryman Retief Goosen was one under and America's world number three Jim Furyk ended two under.
But Fiji's Vijay Singh, a two-time USPGA winner, missed the cut by one after carding 73, 72 for one over.
Other big names to miss the cut include US Ryder Cup captain Tom Lehman, K Club wildcard candidate Fred Couples and crowd favourite John Daly.
Potential European Ryder Cup players to get the weekend off include Ireland's Padraig Harrington, Dane Thomas Bjorn and US-based Swede Carl Pettersson.
Woods, Mickelson and Ogilvy were pitted together according to tradition as the year's three major champions and were locked at three under par going into round two.
But after cagey starts it was Australian Ogilvy, the US Open champion, who was in danger of upstaging his more illustrious rivals.
The 29-year-old fired four straight birdies from the 4th to climb to seven under. He wobbled just after the turn and leaked back-to-back bogeys on 11 and 12 but made amends with two more birdies at the 13 and 15th.
"All in all it was good fun and I'm happy with how I played," said Ogilvy. "It can only help in the future, whether you play well or badly in a group like that. Experience-wise, a lot of guys would kill for experience like that."
Open champion Woods, meanwhile, made his move with an adventurous birdie on the long 5th and added another at the par-five 7th to reach the turn five under.
The 11-time major winner, who won the first of his two USPGA titles at Medinah in 1999, escaped with a circuitous par on the 10th and found birdies hard to come by until the 14th and the symbolic 10-footer on 18.
Mickelson, the world number two, struggled with his driving - he hit nine of 14 fairways - and had to rely on his scrambling skills to stay in contention.
But the defending champion, who shares a frosty relationship with Woods, will have been pleased to dampen his countryman's celebrations on the last with a long birdie putt of his own after finding yet more rough off the tee.
"I'm only four back but I feel like I'm playing army golf - left, right, left," said Mickelson.
"My ball striking has not been very good, but I feel it's just one little thing. My short game has kept me in there but I'm fighting, man, I'm fighting."
The 36-year-old's short-game coach Dave Pelz added extra spice earlier in the week by saying Mickelson is better than Woods on his day.
Woods and Mickelson shared the spoils at Medinah
Honours even in Tiger & Phil show
Woods and Mickelson shared the spoils at Medinah on Thursday.
Tiger Woods and Phil Mickelson could not be separated after 18 holes at the USPGA, as both carded three-under 69s.
Playing in the traditional major winners' group with Geoff Ogilvy, the US Open champion, the American rivals were never quite at their very best.
Mickelson, the Masters champion, made a great start with two straight birdies but then lost his way a tad before picking up shots at his 14th and 16th.
Woods bogeyed the 10th, their 1st, but bounced back well to stay in the mix.
Ogilvy, who also signed for a 69, that leaves them three off the lead, had the most eventful round of the trio, balancing seven birdies against two bogeys and a double-bogey.
But while Ogilvy's golf might have been more intriguing than his playing partners', all eyes at Medinah were on the clash of the game's two biggest stars.
And it was the 36-year-old Mickelson who drew first blood.
Woods, the Open champion and USPGA winner at Medinah in 1999, hooked his opening drive at the par-five 10th into the trees.
He had to lay up as a result, but then sent his 140-yard approach over the green and failed to get up and down.
"Lefty", on the other hand, smashed a 260-yard wood onto the green and two-putted for birdie. He then added another from five feet at the next.
But having given the world number two a three-shot start, the 30-year-old Woods, who is chasing a 12th major title to Mickelson's three, began to find his game.
The world number one birdied the 12th, 14th and 15th to reach the turn in 34, the same mark as Mickelson, who then bogeyed the short 2nd to fall back to one under.
But Mickelson, the defending champion, returned to two under with a birdie on the par-five 5th and both men picked up a shot on the long 7th to get to three under.
Woods, who has won the last six majors in which he began with a score in the 60s, said: "I was behind the eight ball early, but we all understand it's a long way and you just have to keep plugging away.
"We all did that and were grinding away. I kept the ball in play and made a couple of putts."
Mickelson, whose short-game coach, Dave Pelz, had sparked a pre-tournament debate by saying he thought his man was the better of the two when playing well, had two drivers in his bag just as he did in winning at Augusta in April.
"We both played OK, but had the chance to go lower and I'll try to get it ironed out on the range," said Mickelson.
"I've played a lot with Tiger (in all tournaments) and it's very enjoyable. He's in his own world, I'm taking care of what I'm doing and we shake hands afterwards."
Ogilvy, despite being ranked eighth in the world and a fine talent in his own right, admitted afterwards that at times it felt as though he was "just along for the ride".
And as thousands of fans at the Illinois course strained for a view of only Mickelson and Woods' second head-to-head at a major, the 29-year-old from Adelaide said: "I had the best seat in the house."
Woods seals his 50th PGA success
Woods won in his first event since his Open triumph at Hoylake
FOURTH ROUND LEADERBOARD:
US unless stated
-24 T Woods
-21 J Furyk
-20 J Durant
Tiger Woods clinched his 50th PGA Tour win with victory in the Buick Open.
The world number one sealed his latest title with a 24-under par total, with fellow American Jim Furyk taking second place in Michigan three shots behind.
Woods took a break after his emotional Open Championship win two weeks ago, but maintained his Hoylake form with four straight rounds of 66.
Third place at Warwick Hills went to another American, Joe Durant, who shot a 67 to finish on 20-under par.
Woods refused to be distracted on the penultimate hole when an apple was thrown onto the green as his tricky putt for a birdie slid well past the hole.
Tiger Woods maintained his composure to save par, and made another birdie at the 18th - making it a personal-best 28 for the week - to add another Buick title to his victory in 2002.
It was his fourth win in 11 tournament starts in 2006 - he took several weeks off following the death of his father Earl in May.
Woods, 30, becomes the youngest player to reach a half-century of PGA Tour wins, reaching the mark in his 196th event.
Just six other players - Snead, Jack Nicklaus, Ben Hogan, Arnold Palmer, Byron Nelson and Billy Casper - have achieved a half-century.
"It's pretty cool to get to 50 wins. You never in your wildest dreams think it could happen," said Woods, who has been a professional for less than 10 years.
"I've had a lot of just really wonderful things happen to me on tour in my career and I've been very blessed.
"I started out just hoping to get my card, I was able to do that and, lo and behold, I got on a nice little run there. It's been just a great ride really."
American legend Sam Snead, holds the record number of tour wins with 83, and when asked if he could get to that, Woods replied: "Hopefully, hopefully. It's a long way away and that's a big number.
"You know it's going to be a lifetime, a career basically, to get to that point and attain something like that. It's not going to happen next year. It's going to take a long time.
"It took me 10 years to get here and hopefully I can continue playing well over the next 10, 20 years."
Woods, who has triumphed 68 times in 241 tournaments worldwide, has now won 43 times from the 48 events in which he has held at least a share of the lead going into the final round.
He also made it 21 out of 21 in US Tour events that he has won from being at least two strokes ahead with 18 holes to play.
Furyk, who is likely to partner Woods at next month's Ryder Cup, said: "We haven't seen an equal of that in the last I don't know how many years.
"Definitely my era hasn't seen it. He's a tough guy - he's the guy to go out there and beat and it's exciting for me or the other players to go out and try to apply some pressure.
"You want to be trying to beat the best and it's just very difficult.
"Obviously when he gets the lead, he finds a way to he puts the ball in the fairways, he puts the ball on the green, makes some pars and birdies. He's not giving much up."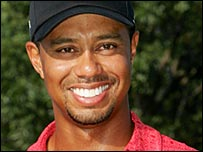 Woods hails 'best' Open victory
Woods' Open victory was the 11th major win of his career.
Tiger Woods says some of the best golf of his illustrious career propelled him to a third Open title.
The American shot a final-round 67 on Sunday, to finish two clear of the field at Hoylake, in his first major win since the death of his father in May.
"As far as my control, it was probably one of the best ball striking weeks I've ever had," he said.
"That's shaping the ball, moving my trajectory and different heights and controlling my spin into the greens."
The normally ice-cool Woods cut an emotional figure after putting in for victory on the 18th.
Basically to win your first tournament, after my father had passed away, and for it to be a major championship, it makes it that much more special
It was his first win since the death of his father Earl, and he burst into tears as he first hugged caddie Steve Williams, before embracing his wife Elin and then coach Hank Haney.
"I've never done that," he added. "You know me. So I guess it's just all the things that we've gone through of late.
"I guess I'm kind of the one who bottles things up a little bit and moves on, tries to deal with things in my own way.
"But at that moment it just came pouring out and of all the things that my father has meant to me and the game of golf.
"I just wish he could have seen it one more time."
He was always on my case about thinking my way around the golf course and not letting emotions get the better of you
Woods won the Open in 2000, and 2005, but insisted this victory meant more to him considering events surrounding the tournament.
"No doubt about it," he said. "Absolutely no doubt about it.
"Basically to win your first tournament after my father had passed away, and for it to be a major championship, it makes it that much more special."
Woods, who has now won 11 major tournaments, opted for a rigid strategy and stuck rigidly to it throughout the four rounds.
He decided not to use his driver, and instead to employ his irons off the tees to limit the chances of playing wayward shots and missing the fairways.
If only our young golfers had a fraction of the mental toughness of a Di Marco or Tiger, think how good they could be
He said his approach was born out of the influence his father had on his game.
"He would have been very proud," Woods said.
"He was always on my case about thinking my way around the golf course and not letting emotions get the better of you, because it's so very easy to do in this sport.
"He would say just use your mind to plot your way around the golf course and, if you had to deviate from the game plan, make sure it is the right decision to do that.
"He was very adamant I play like that my entire playing career."
Tiger Woods wins his third Open title
Tiger Woods won his third Open title and 11th career major with a consummate display of control and precision on Royal Liverpool's hard-baked links.
The defending champion, Woods finished two shots ahead of Chris DiMarco and five clear of third-placed Ernie Els.
DiMarco tried to provide a dramatic finish and at one stage reduced his Ryder Cup team-mate's lead to just one.
But that excitement was only temporary as Woods immediately responded with cushion-restoring birdies.
Having been the very definition of steely determination for the entire week at Hoylake, Woods broke into tears after tapping in for par at the last and shared emotional embraces with his caddie Steve Williams, wife Elin and coach Hank Haney.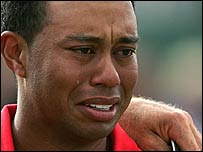 This may have been major victory number 11 for the remarkable American but it was major win number one for him without having his father Earl there to celebrate with.
Woods' sporting inspiration died earlier this year and the world number one took nine weeks out of the game to grieve.
Missing the cut in his first event back, the US Open, prompted some to question how Earl's absence would affect Tiger. The answer has been emphatic this week.
"Stevie (Williams) said to me as we were coming up the last, 'this one is for dad'," said the 30-year-old Woods.
"And then all these emotions just poured out of me. They have been locked in there.
"I just miss my dad so much. I wish he could have been here to witness this.
"He enjoyed watching me grind out major wins and this would have brought a smile to his face."
Woods then took time to congratulate his friend DiMarco on a typically brave display.
A performance all the more impressive as the New Yorker, who was also second to Woods at the 2005 Masters, has only very recently lost his mother.
The two men have swapped kind words all week on their personal losses and it was perhaps fitting that it should be DiMarco who ran Woods closest on a day that almost but never quite reached the dramatic heights most had hoped for.
But then Woods is the best front-runner in sport. He has won 11 of 11 majors he has led after 54 holes and seven of seven he has led after 36 holes.
He is now tied with Walter Hagen in second place in the major-winners stakes, seven behind Jack Nicklaus' haul of 18.
The Golden Bear's record was once considered insurmountable but Woods has reached the total of 11 majors in a shorter period. Nicklaus was 32 when he won the 1972 US Open.
The California-born star is only the 19th player in Open history to win three Claret Jugs and he is the first man to win back-to-back Opens since Tom Watson in 1982 and 1983.
Woods played all four rounds of the previous 39 majors he competed in.
Tiger Woods missed his first cut at a major as a professional after a second straight 76 at Winged Foot.
The world number one finished on 12 over, 13 shots behind Steve Stricker's lead and three shots off the cut mark.
He is not the only big name going home early - Michael Campbell, Sergio Garcia and Retief Goosen missed the cut too.
Interview: Tiger Woods
Campbell, the defending champion, added a 77 to his first-round 75 to join Woods on 12 over, while Spain's Garcia, the world number eight, posted two 78s to be 16 over.
World number four Goosen, a two-time US Open champion, slumped to 15 over after an eight-over 78.
There are a lot of US Opens to go in my career - I'll put this behind me
Michael Campbell "We just really struggled on the greens today," said the 37-year-old Campbell, who played alongside Woods.
"Your play gets magnified out there. I didn't play that badly, I just missed a few fairways. Once you do that, you have to chip out sideways and make bogeys."
Despite his disappointment at being unable to defend the title he won so memorably at Pinehurst last year, the New Zealander remained philosophical about his experience this week.
"That's life. You must carry on," he said. "There are a lot of US Opens to go in my career, so I'm looking forward to that. I'll put this behind me."
Ironically, the last player to win the US Open and then miss the cut the following year was Goosen, in 2002.
Another leading light not staying for the weekend is Davis Love III, who won the USPGA at this course in 1997.
The 30-year-old American looked out-of-sorts all week in his first event back after a nine-week break following the death of his father.
Marginal shots are just getting killed here, more so than any other US Open course we play
Woods has been relatively inaccurate off the tee for some time but has usually been able to get himself out of difficulty with the quality of his iron play and rock-solid putting.
But this is not the tournament for great escapes and Woods' waywardness from the tee continually led to problems on the greens.
Woods, who shares the record of 39 consecutive cuts in majors with Jack Nicklaus, parred his first four holes on Friday before double-bogeying the 14th and 16th, his fifth and seventh holes.
He birdied the 17th, his eighth, but there were three more bogeys coming home, including back-to-back dropped shots at his last two holes.
The 10-time major champion hit only seven of 28 fairways over the two rounds and only 18 of 36 greens in regulation.
"I thought I was playing well enough to shoot under par today and I didn't do that," a disconsolate Woods said afterwards.
"It's not rust. Unfortunately I didn't put it together at the right time. I couldn't put it together properly and shot six over.
"I felt like if I kept plodding along I could have turned it around with just one shot. I made two good saves on 18 and one and made another good save on three.
"It's playing hard. The golf course is very difficult, the wind is up now and marginal shots are just getting killed here, more so than any other US Open course we play."
The only cut Woods has ever missed at a major before came at the 1996 Masters when he was still an amateur.
Asked how he would respond to his US Open setback, Woods replied: "Practice. Hopefully I can win the British Open."